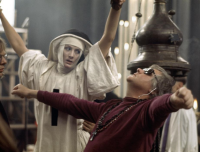 Wound licking. Nuns biting nuns. Self flagellatory priests… Director Ken Russell's cream and beige symphony to Satan may be "Lewd, wanton" in the words of the film, but also historically accurate in many respects.
Aldous Huxley penned the novel The Devils of Loudun that this incantatory gob of ocular sorcery was based on, and Russell's adaptation was predictably condemned by the Vatican and banned in Finland until the year of Our Lord 2001. Warner Brothers refused to release the film uncut due to what they deemed a "distasteful tonality". In a scene immediately following the grisly execution of salient gremlin Urbain Gandier (unforgettably delineated by Oliver Reed), show stealer Vanessa Redgrave's sister Jeanne des Anges inherits Grandier's charred femur bone, which happens to be fashioned like a mediaeval dildo, and the subsequent edit alludes to a feverish masturbation sequence which was suppressed by Warner Brothers.
At the time of making the film, Ken Russell was surprisingly a devout Catholic and apparently "very secure in (his) faith", which is all the more astonishing due to the film's themes of sexual repression, abuse of clergical power, and the hypocrisy of the Church. In an interview, Oliver Reed stated that the Catholics vs Protestants theme was heavily influenced by the then ungovernable "Troubles afflicting Northern Ireland".
The gleefully perverse visual intoxication and high camp that Ken Russell's films are revered for were first truly consecrated with The Devils, and perhaps again only transcribed to lesser effect in eccentric later outings such as Crimes of Passion, Gothic, and The Lair of the White Worm.
In 1964 Russell planned to adapt A Clockwork Orange but the British Board of Censors advised they would not approve it. Still, some of Burgess' influence seems to have found its way into The Devils, particularly the energy and cynicism of the novel, and the film's menacing blood red title card still is reminiscent of imagery from Kubrick's then recent cover version.
Bosch, Fellini and Jodorowsky also loom large. Russell insisted on anachronistic, even futuristic set design and production designer Derek Jarman(!) accordingly dislocated historicity by basing his sets on Fritz Lang's Metropolis. Through his art, Ken Russell always struck me as potentially unhinged (his philosophising son once even stalked me on Facebook), for example, he was responsible for accidentally detonating a large portion of the film's set. Also, a legendary lost TV debate between the director and an excessively harsh critic apparently became so heated that Russell walloped the critic over the head with a newspaper featuring the antagonistic review.
DETAILS
Screening at the Canterbury Film Society,
Christchurch Art Gallery Te Puna o Waiwhetu, 12 September, 7:30pm
https://www.canterburyfilmsociety.org.nz/join
Also See Youtube: Mark Kermode, UK Film Critic Documentary: Hell on Earth: The Desecration & Resurrection of The Devils https://www.youtube.com/watch?v=Xeg1ylvalSo&ab_channel=JAtube
IMAGES
1. Ken Russell and Vanessa Redgrave on the set of The Devils