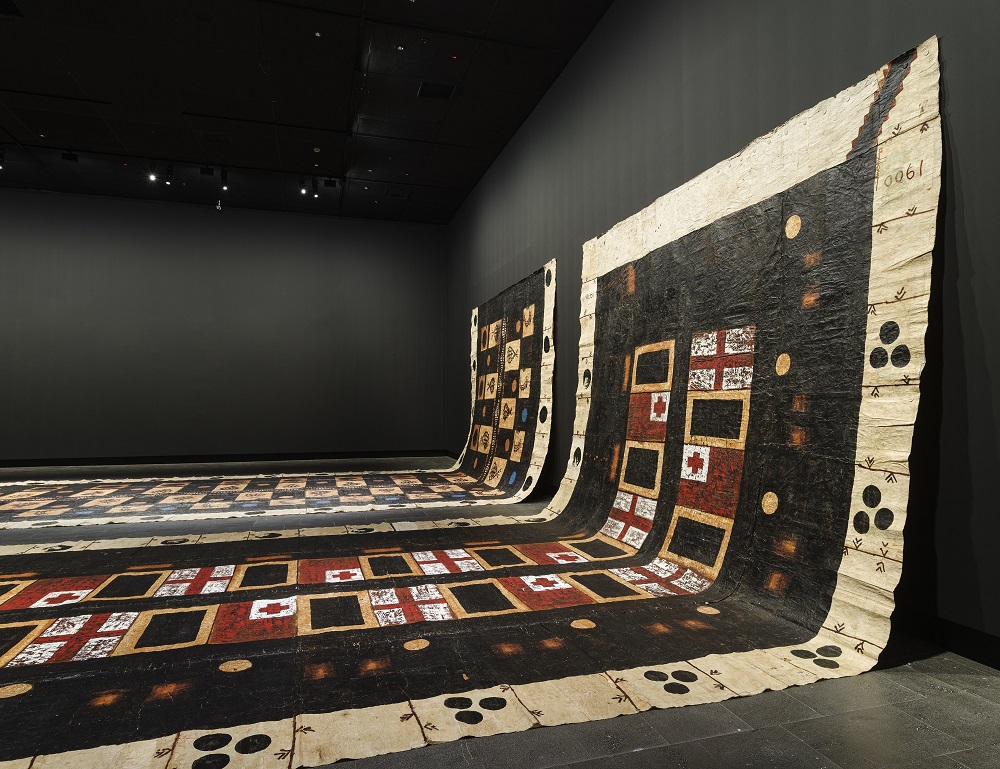 Kulimoe'anga Stone Maka, Kuini Haati 2 (Two Queen Heart) and Toga mo Bolata'ane (Tonga and Britain), 2008–10. Oil, clay, dye on tapa cloth. Installation view, Christchurch Art Gallery Te Puna o Waiwhetū. Courtesy of the artist. Photograph: John Collie
DETAILS: Kulimoe'anga Stone Maka: Toga mo Bolata 'ane
Christchurch Art Gallery Te Puna o Waiwhetū, corner Worcester Boulevard and Montreal Street.
Kulimoe'anga Stone Maka's Toga mo Bolata'ane (Tonga and Britain) and Kuini Haati 2 (Two Queen Heart) are from a series of works by Stone Maka that he had initially exhibited in Ōtautahi in 2010. How did they become a part of the Biennale of Sydney in 2020? Stone Maka maintains that it was a surprise to hear of curator Brook Andrew's' interest: 'I received an email from Te Papa, from Nina Tonga, curator of Pacific Art at and she mentioned Andrew. I had never heard of him. I was told that he was going to be in Christchurch to see one of the artists that he was thinking about for the Sydney Biennale, but she said; 'Andrew wants to drop by and see you. He came and wanted to look at my work. I pulled out the tapa works that I had exhibited at CoCA Gallery, Tohinoa 'o' Manatu (Journal of My Memories) in 2010. After that exhibition I put them under the bed and never put them out until Andrew arrived. He asked if he could have a look at them. He looked at me. He wanted them in the Biennale'.
September 2021 Edition SEE IT HERE.