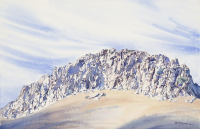 Creativity has often appeared with a combination of genes and environment fostering artistic ability passed down through families and November's exhibition at Stoddart Cottage Gallery is a striking case in point, presenting as it does a retrospective of works by local watercolourist, June Macleod, and contemporary paintings inspired by her son, the award winning Sydney-based artist, Euan Macleod.
The exhibition provides a retrospective of the work of June Macleod, born in Christchurch in 1931 and painting until her eighties. Taking an art course through the Wellington Correspondence School as a young mother and studying watercolour under respected local painter, Joy Simmons, she went on to show her work in many group exhibitions. Her main focus was landscapes, (see June Macleod's Witch's Hill, page 10) especially those around Arthur's Pass, and ,more recently, Diamond Harbour and Church Bay where she lived until 2021, surrounded by the beautiful garden that inspired her later closely observed iris and rose paintings.
Born in Christchurch in 1956, Euan Macleod completed a Diploma of Fine Arts (Painting) at the University of Canterbury, before moving to Sydney in 1981. Throughout his career, Euan's work has traversed the land and landscapes of his birthplace and adopted home. His work is held by the National Gallery of Victoria (Melbourne) to the Metropolitan Museum, New York, and he is the recipient of numerous awards, including Australia's prestigious Archibald Prize. Documented in, Gregory O'Brien's Euan Macleod—the Painter in the Painting (Piper Press, 2010), he regularly explores relationships between humanity and the environment, and the processes of memory and forgetting that shape people and places. In this exhibition, his mother, June becomes the human figure of his latest works, walking through the landscapes central to her life.
DETAILS
June Macleod and Euan Macleod, Natural Succession at Stoddart Cottage
Stoddart Cottage Gallery, 2 Waipapa Avenue
Diamond Harbour
4 – 27 November
Friday-Sunday plus most public holidays, 10am-4pm
IMAGES
Euan Macleod, Above Taylors Mistake, 2022 acrylic on paper