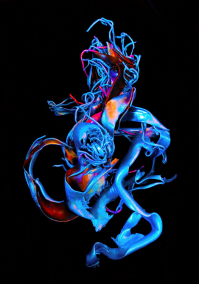 The huge success of Sotheby's NFT (non-fungible token) auction, Natively Digital: A Curated NFT Sale sale in June 2021, has "officially" consolidated non-fungible art within the wider context of the history of art in the Western World. Fundamental to the outcome of Sotheby's auction was its mainstreaming of NFTs as objects that connected with the Western world's long-standing commitment to works of art (painting and sculpture in particular) as items of monetary value. So how can digital art share the same stage? As one-off objects NFTs are a unique asset. Unlike a bitcoin, which is 'directly interchangeable with another, meaning it is fungible, NFTs are the opposite because the underlying assets are unique in some way, and can't be exchanged like for like.' (see: https://theconversation.com/nfts-are-much-bigger-than-an-art-fad-heres-how-they-could-change-the-world-159563 )
As collectable objects they also represent the expression of an idea of quality and excellence, and evidence of technical knowledge and skill, and partaking within the context of the visual arts and the sale and purchase of a work of art, they possess high, medium and low financial values.
History already tells us to be careful about dismissing NFTs, their importance surely now becoming clearer as the hype dies down. Many commentators dismissed the influx of tech companies around the dotcom bubble of the late 1990s, and the first wave of mass crypto-currency enthusiasm in 2017, only to be proven wrong when Amazon and bitcoin re-emerged. Where Sotheby's achieved a sale of US$17 million for The Fungible, (its first NFT), their wider presence at auction has also seen their diverse market value.
And while the art market has gained immediate attention for NFTs, a wider and more informative discussion of NFTs and their artistic, economic and technical context is central to the current exhibition, Presentation Layer: NFT forms, platforms and transference at the Ilam Campus Gallery at the School of Fine Arts. The exhibition features the work of three established artists and two School of Fine arts students: Marie Porter, Motoko Kikkawa, Nur Aleeya Noradzmudin, Simon Denny and Stu Sontier. Presentation Layer is a persuasive experience; dramatic, beautiful and compelling in its images and directly engaged with the questions that it raises.
DETAILS
Marie Porter, Motoko Kikkawa, Nur Aleeya Noradzmudin, Simon Denny and Stu Sontier, Presentation Layer: NFT Forms, Platforms and Transference, Fine Arts Lane, off Clyde Road, 28 May – 15 July
IMAGE
Motoko Kikkawa, Engine in nature, photographic light box (2021)