Media Release
ArtBeat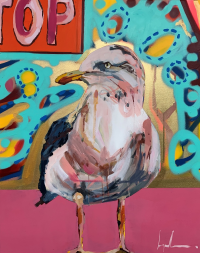 Based on the East Coast of the North Island, South African-born artist Angela Maritz and husband and family live in the Bay of Plenty. Maritz works on her acrylic on canvas paintings from her studio at home, exhibiting throughout New Zealand and internationally.
She tracks her success as an artist, in reconciling feelings about herself from more than twenty years ago as a student, 'hiding from the rest of the world and her sadness, anger, frustration and fears of rejection and not being good enough.' A teacher who saw Maritz at the time recognised her ability to convey emotion through her work 'igniting a flame' that she recalls kept her running back, to paint when she needed a safe place to express her feelings.
'It wasn't until my late 30s that I sat back and took stock of my achievements. I was exhibiting extensively. I had galleries representing me in New Zealand and I was enjoying worldwide recognition. Collectors of my work were telling me about the positive emotional experiences that my art was providing for them and I finally recognised that my feelings allowed me to know how strongly I felt about things. However I was no longer going to allow them to hold me back. It was at this point I truly became an artist.'
The subjects of her paintings range from still life to landscapes and seascapes, and animals and birds, painterly, figurative images with an interest in paint, line and colour. These include a recent series of seagulls, a subject she describes of interest artist because they symbolise, 'the beach and happy times spent on coastal holidays as a child, but more importantly the connection we have to other living creatures.'
'My intention is not to just paint seagulls, but to paint them in a way which gives them human characteristics. I guess they can be seen as the "underdog" in the "bird kingdom" so I choose to romanticise them. To paint, what I would have you think of them.'
Maritz is the guest speaker for the opening of the Christchurch Art Show in 2021, taking about her journey as an artist and the value and merit of art in all our lives.
DETAILS
Angela Maritz, Artist talk: Art For Your Heart
The Christchurch Art Show
Event Centre – NZ Airforce Museum
45 Harvard Avenue, Wigram
6.30pm Saturday 10th April 2021
Tickets $15 (Includes talk and free access to art show)
The Christchurch Art Show 8 -11 April
IMAGE
Angela Maritz, Top of the morning (to you dear Sir), acrylic on canvas