Media Release
ArtBeat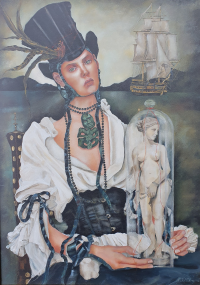 Rhonye McIlory and Anneke Bester both come from a background in design and surrealism. McIloy worked in the fashion industry and Bester as a props sculptor for films that include Andrew Adamson's Chronicles of Narnia: The Lion, the Witch and the Wardrobe.
McIlroy made the transition from clothing to the fine arts as a finalist in the Smokefree Fashion Awards in 1997 with paintings initially based on costume book designs. Her subjects encompass the historical, the erotic and surreal with a particular interest in the history of Aotearoa. She is a meticulous maker, her paintings characterised by an attention to the smallest details, which means that she usually exhibits eight or nine new works each year. McIlroy is also the recipient of a number of art awards, including the Premier Award from the Ashburton Society of Arts annual exhibition in 2016 for her painting, Discovery, Capt J Cook, Poverty Bay, New Zealand, 8 October 1769.
Her exhibition, Stone to Flesh features more than 20 works, representing sixteen years of her painting. The earlier of these are of Greek/Roman sculptures as well as historical subjects of Māori and Pākehā, and the story of her ancestors, Elizabeth and John Guard. The subject of The Alligator Affair, (also known as The Harriet Affair 1834) is her great-great-great grandmother, Betty Guard, the focus of previous works based around her and 'Jacky' Guard, a pioneering family of the shore whaling industry in early 1800s. Betty and Jacky Guard's arrival in Aotearoa in the 1830s, and being taken hostage by Māori in Taranaki were also the subject of The Plight of Betty Guard which was the recipient of the Premier Award at the Tasman National Art Awards in 2019.
Anneke Bester is a South African-born artist who has exhibited sculpture and paintings in Aotearoa, Portugal and Dubai through commissioned works and solo exhibitions. Commissions have also included the film industry and movies that include director Peter Jackson's trilogy of the Hobbit movies. Her work is held in public collections in Aoteaoa, including the Hamilton Gardens in the Waikato, with Lewis Carroll and Alice in Wonderland's Dormouse, White Rabbit and Mad Hatter.


DETAILS
Rhonye McIroy, Stone to Flesh and Anneke Bester, Sister Water
386 St Asaph Street, Christchurch
Windsor Gallery is currently closed. The exhibition was scheduled until 28 April. For more details email: info@windsorgallery.co.nz
IMAGE
1. Rhonye McIlroy, The Alligator Affair, acrylic on board