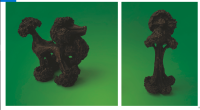 When the Zonta Ashburton Female Art Awards (ZAFAA) opened in March at the Ashburton Art Gallery, the work from its 37 finalists shared the gallery's spaces with an exhibition, Pork Chop Express, from the ZAFAA's 2021 recipient, Jacquelyn Greenbank. As an award, seeking to raise the status of female visual artists, acknowledging the contribution women make to the greater art discourse, fundamental to its outcomes is the opportunity for each annual recipient to hold an accompanying solo exhibition the following year.
Greenbank is famous for her use of recycled materials, meticulously crafted and embedded with a wit and attitude that underlines her practice. For the 2021 ZAFAA, her work, As good as ten mothers was a circular grouping of 10 garlic cloves crafted from a carved bowling ball tied together with harakeke, and placed on a bright yellow melamine plinth made from a kitchen bench top. The timing of the award for Greenbank, immediately followed by lockdown was helpful. 'It was a really good opportunity for me to use what was in my studio. I am lucky enough to have a studio at home.'
The title of her work, As good as ten mothers is derived from the movie, Garlic is as good as ten mothers, by independent American film-maker Les Blank and Greenbank's choice of it in an edited form, makes an immediate domestic connection with food and home, yet also acknowledges its less comfortable associations, including those with vampires and the idea of an individual preying on others.
Greenbank's exhibition at the Ashburton Art Gallery is similarly linked to the cinema. Pork Chop Express is the name of a big rig freight liner driven by the actor Kurt Russell that she describes as from 'a really bad 1980s movie, Big Trouble in little China' by American director, John Carpenter. Described by film critics in Rotten tomatoes www.rottontomatoes.com as 'a film that distils kung fu B-movies as affectionately as it subverts them,' Greenbank's thoughts about the film are less generous, noting that Big Trouble in Little China, 'highlights racism and all those racist slurs - and it is chauvinistic. But the movie also rifts off a takeaway food bar, which is what I was thinking about when I was considering my exhibition. We are often exposed to new cultures through takeaways and I have explored some of that. I am thinking about how I look at my own culture and understand where I come from and who I am and all those misconceptions. My grandfather is Chinese and I would like to find some sort of connection.'
The works in Pork Chop Express include small poodles cast in bronze, simultaneously replicating themselves as broccoli stalks, the decision around their double-life an outcome of Greenbank thinking about A & P Show and how they ritualise food as an event. 'The wax broccolis that I previously made have been remade. Pork Chop Express is a response to the ZAAFA, and it continues on from whatever I was making at that time. That's the great think about having a solo show. I can explore those ideas in that single work, to tell a complete story - The exhibition is a year in the making.'
DETAILS
Jacquelyn Greenbank, Pork Chop Express ,
Ashburton Art Gallery, 327 West Street
19 March – 24 April
Open daily, 10am – 4pm and Wednesday, 10am – 7pm
IMAGES
Jacquelyn Greenbank, Wonton, 2022, cast-bronze, and (right), Ginger, 2022, cast-bronze