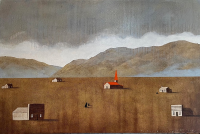 Indigo is a colour 'between blue and violet in the spectrum' - and also the name of a Central Otago group of artists: Luke Anthony, Shaun Burdon, Judy Cockeram, Rachel Hirabayashi, Megan Hufferdine and Lynne Wilson. Representing the various disciplines of ceramics, painting, sculpture, photography and mixed media, Indigo is equally about a commitment to supporting one another, exhibiting collectively in various exhibitions.
And although Central Otago may brings the work of these artists together, each artist's response is distinct and independent. Luke Anthony works with native timbers, (rimu, matai, Kauri and broadleaf), realising sculptures of live-size native birds, while former lecturer at the Dunedin School of Art, Shaun Burdon, describes his subject matter as arising 'from incidents and accidents of paint, thought, feeling and experience.'
Judy Cockeram is a former lecturer at Auckland's, School of Architecture, and a multi-media artist, working in clay and fibres, and Megan Huffadine's paintings are about the small detail of personal identity and the wider context of living in Central Otago. She comments: I've taken the idea of the still-life into painting and sculpture, working towards a juxtaposition of image and object. Painting still-life has opened up this new avenue for me. There are still references to plant imagery in my textile designs, sculptural interpretations of seed forms, organic forms in Victorian metal filigree and a reference to Dutch still-life painting. All of this is connected to the notion of the Wunderkammer, (a place where a collection of curiosities is exhibited), but it is more significant now with climate change and the potential loss of seed varieties through industrial farming.'
Rachel Hirabayayashi is a painter/sculptor with a background in children's book illustrations and graphic design. She notes that her time traveling to South America has been of significance, majoring in painting at Otago Polytechnic School of Fine Arts, her current interests are the birds nesting along the banks of the Clutha River. Ceramic artist Lynne Wilson describes her Raku ceramics as fired in a way that is 'both traumatic and hugely satisfying,' documenting in clay, samples of old ornamental ironwork. Tutored by artist/educator Don Peebles at the Ilam School of Fine Arts, Nigel Wilson's current works are about painterly form and colour, locating the viewer in the land and the here and now of Central Otago.
DETAILS
Indigo
Art on the Quay, 176 Williams Street, Kaiapoi
14 July -17 August
IMAGES
Rachel Hirabayashi, Goldtown Series, 2022, acrylic on canvas