Blog
ArtBeat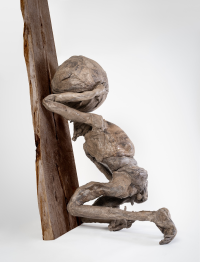 The Christchurch Art Gallery Te Puna o Waiwhetū's s announcement of an exhibition of new works by Francis Upritchard Paper, Creature, Stone, is a welcome surprise for all who are familiar with her work.
If any artist from Aotearoa has, what could be described as a dedicated fan base, it is Francis Upritchard. Look no further than the lengthy and dedicated discussion on her arts practice from artist and arts commentators, John Hurrell website, eyecontact: https://eyecontactmagazine.com. Upritchard's arts practice is featured in 12 essays/reviews from 2011 to 2019, the list including contributor Ralph Paine's 2017 essay, vigorously and comprehensively defending Upritchard's art and ideologies following criticisms of her practice from Tāmaki Makaurau-based author, critic and academic, Lana Lopesi.
The inaugural artist-in-residence at the Sutton House in 2020/21 Francis Upritchard's Paper, Creature, Stone (note the inanimate and animate objects in her exhibition's title all share the same stage) is described as featuring a 'range of human and animal forms made from balata rubber, a curious substance extracted from trees in Brazil,' as well as ceramic works, figurative sculptures and watercolours. In addition, there is a welcome sense of democracy in the collaborative works in Paper, Creature, Stone, with contributions from potter Nicholas Brandon, fashion designer Steven Junil Park and jeweller Karl Fritsch.
Paper, Creature, Stone is curated by Felicity Milburn who acknowledges the wide reach of Upritchards' subjects: 'Previous works have referenced dinosaurs, medieval tapestries, Japanese folklore, Indian miniatures, European archaeological finds and science fiction. She works in a wide variety of materials including wild rubber, polymer plastic, clay, fabric and watercolour. With both care and playfulness, Upritchard combines textures, colours and scales – the second-hand with the handmade, the tiny with the monumental – in an unforgettable combination that will reward the curious visitor.'
DETAILS
Francis Upritchard, Paper, Creature, Stone
Christchurch Art Gallery Te Puna o Waiwhetū
Cnr Worcester Boulevard and Montreal Street
2 April – 24 July
IMAGE
Francis Upritchard, Sisyphus (detail) 2021, rubber and wood. Christchurch Art Gallery Te Puna o Waiwhetū