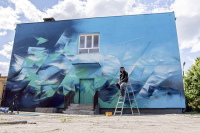 Polish artist Pener (Bartek Świątecki) will spend July as artist-in-residence at Fiksate Gallery. The Sydenham-based gallery is excited to welcome Pener after a long period of global travel restrictions, their first in-house international presence since Robert Seikon and Anastasia Papaleonida in 2020. Pener arrives in Aotearoa with a significant profile, part of an impressive contingent of Polish urban contemporary artists, his angular, fragmented abstractions, built with dynamic lines and intense colour, pushing graffiti aesthetics in new directions.
Arriving in early July, Pener will complete work for his exhibition Vacation for Reality. The exhibition will be the first presentation of a cohesive body of his work (including a series of prints produced in-house at Fiksate) in Aotearoa. In addition to the exhibition, Pener will paint the Berlin Wall remnant installed at Rauora Park and release a self-published book, with 20 copies available exclusively at Fiksate.
The artist's excitement at being in Aotearoa, and working with Fiksate, is matched by the gallery. Long-time admirers of the artist, who first exhibited at the gallery in 2019 as part of the group show Urban Abstract, Fiksate is thrilled to introduce a new audience to the talented Pener.
DETAILS
Pener's Vacation for Reality opens Friday, 15th July
Fiksate Gallery, 54 Hawdon Street, Sydenham
IMAGE
Pener, Mirror Land,2021, Olsztyn, Poland, See: https://mymodernmet.com/pener-mirror-land-street-art/