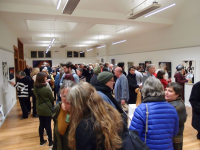 In 2022, Eastside Gallery Linwood continues to consolidate and broaden its commitment to emerging local artists through its exhibition and education programme, extending the reach of its annual first-time artists' exhibition, First Steps with a new 'follow up' group show in May, Stride by Stride. First Steps featured the work of sixteen artists, and for Community Arts Development Co-ordinator Liz Bolt, Stride by Stride was a logical response, acknowledging Eastside's mentoring of artists, introducing a curated exhibition that looked to greater representation of their work. In a wider context, it is also the third step in its programme for emerging artists that began with The Mini Gallery, Eastside's exhibition space for aspiring artists to make that first commitment to exhibiting in a public space.
In July, Eastside Gallery opens, What are you looking at? Artists confront expectations, a group exhibition inviting responses to interpret the theme in any medium and way that they like. Bolt further indicating that, as a group show, it provides that additional opportunity, this time, to reflect on their arts practice and its capacity to respond to and/or address the spirit and agenda of the exhibition's thematic intentions.
Eastside is also extending its education programme and classes and activities offered during the day and evenings. Bolt details its classes and the inclusion of three free kids' classes for seven to twelve year olds, Art for Wellbeing and Mature Movement for 55+, as well as Creative Writing. This class is tutored by Frankie McMillan, author of five books who has taught writing and creative therapy, who has also, over the past twelve years been a part-time tutor at the Hagley Writer's Institute in Ōtautahi.

The Linwood Community Arts Centre is a project of Te Whare Roimata Trust. Classes made possible through funding support from Manatu Taonga Ministry for Culture and Heritage.
DETAILS
What are you looking at?" Artists confront expectations, 11 – 30 July
Eastside Gallery – Linwood Arts
388 Worcester Street, Linwood, Tuesday-Saturday 11am-4pm
https://www.linwoodarts.org (classes and exhibition details)
IMAGES
The Longest Night, Eastside Gallery Opening Even, June 2021, photograph, Liz Bolt