Blog
ArtBeat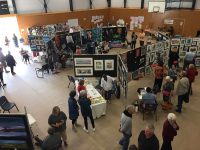 In the last weekend of April, Greymouth is hosting Art in the Park, an annual arts event that brings together more than forty artists representing a range of disciplines; painting, sculpture, jade, digital media, textiles and more. Overseeing this annual event over the past fifteen years is Gary Hopkinson, chair of Art in the Park incorporated, aided by a small group of supporters.
Initially held at Dixon Park and then Shantytown, in 2022 Art in the Park is scheduled in Greymouth High School's new gymnasium. Hopkinson observes that interest in the event continues to grow. 'Last year we started to get interested art buyers and audiences from Christchurch and Nelson. We used to hold Art in The Park on the first weekend in March, but it got too busy and we have pushed it back to the last weekend of the school holidays.'
'Art in the Park is an art fair that attracts artists from all over New Zealand to exhibit, share and sell their original work to attendees over the weekend. Among the registered artists to date are those from the wider region of the West Coast, Nelson and Christchurch.' Certainly, the focus for this annual event is on supporting the work of all the participating artists, the organisers volunteering their time and resources, taking no commissions from the sale of an artist's work and celebrating new and returning artists.
Inevitably, the 2022 Art in the Park has also been shaped by Covid 19. Hopkinson comments that they have reviewed the best means to profile the event and grow visitor numbers, establishing a lead-in exhibition at Greymouth's Left Bank Gallery prior to the event, providing the opportunity for all participating artists to feature a work in the gallery that, in addition to being an exhibition in itself, profiles the Art in the Park event through its presence on social media.
'Our charter is to promote an artist's work, getting their names out there in an event that also brings them together, with workshops and demonstrations. (Previously we have had art suppliers come down from Nelson to demonstrate new products). We also have a slot in Art in the Park for artists just starting to sell their work.'
Participating artists representing a range of arts practices in 2022 include: Glynn Davenport, pastels and works on paper; Sarah Godfrey, landscape paintings; Bless Groome, stickers, stationary and handmade items; Struan McDonald, paintings and drawings; Sue McGregor, wire and aluminium sculpture; Terry Salt, watercolour, acrylic and oil painting; Yvonne Spencer-Hoskin, quilting and sewing; Slade Tiller, landscape painting landscapes, and Marlene Trounson, greenstone and gemstone jewellery.
DETAILS
Art in the Park 2022
Greymouth High School Gymnasium, High Street
Saturday, 30 April, 10am - 5pm, and Sunday 1 May, 10am - 3pm
100 attendees at any one time, managed via a token system.
www.artinthepark.nz and artintheparkgreymouth
IMAGE
Art in the Park, 2021, Greymouth High School Gymnasium