Blog
ArtBeat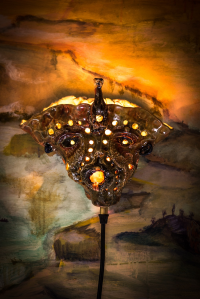 No stranger to reinvention, Ng Boutique considers histories, conservation and change, even as they navigate a major relocation. In the wake of efforts to ensure a future for their original J.C. Maddison warehouse (home to both the design boutique and studios of artists, designers, and architects), Ng Boutique work their usual magic from a transitional space on Peterborough Street. Alongside covetable textiles and home wares, new artworks by Tim Main and Nichola Shanley conjured a still and shady respite through the stormy Ōtautahi summer.
Multidisciplinary maker Tim Main draws from diverse iconographies and heritage methodologies, reimagining Aotearoa's native species in contemporary sculpture. Timbers echo divine symmetries, lines smoothed and surfaces softened, using the same artisanal processes employed in the crafting of archery bows. The inherent beauty of his chosen medium is celebrated, yet made anew, subtle grains elevated by a dark finish, testament to Main's sharp eye and commitment to his craft.
Reclaimed oak bedposts become sentinel trunks with tapering sides; angular branches in opposite pairs bear exacting stone clay details, sleek avian forms take up residence among seed heads and pollen cones. Studies in balance and proportion, Main's Kauri Totems bring an attentive and carefully ordered aesthetic to dialogues of indigenous ecology and conservationism.
These minimalist structures are cast in new light in conversation with the sublime ceramic objects of Nichola Shanley. Shanley's practice appears as an embodied act of divination, an intuitive exploration of form and mark-making with roots in her past printmaking practice. From her home and studio perched above the natural amphitheatre of Lyttelton, Shanley has created ceramic works evoking the fragmented and volatile geology of the cratered landscape.
Vessels are made foreign in petrified organic textures, while porcelain curiosities recalling local stone or open shellfish, covered over all in silken glaze, gradually revealing unexpected anthropomorphic characters and sunken features. Illuminated from within and studded with pinpoint apertures, these new arrivals come alive with a mischievous energy. Science mingles with storytelling; artifacts occupy the space between the material, mythic and macabre, questioning the like origins and earthly understandings of flesh and clay.
Pieces weigh both a yearning for perpetuity and inevitable cycles of change, through transformative mediums and immersive process. Calling in histories primordial and mythological, objects by Tim Main and Nichola Shanley offer cool yet ageless atmospheres to Ng Boutique's interim home through to the end of January, leaving us in anticipation of future offerings.
DETAILS
Ng Boutique
Unit 8, 75 Peterborough Street.
Open: Wednesday – Friday 10am – 5pm and Saturday 10am – 4pm
IMAGE
Nichola Shanley,The Certain Reaction of Vegetation, ceramic and glazes