Blog
ArtBeat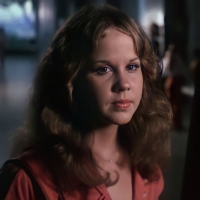 Prior to her unforgettable turn in The Exorcist (1973), Linda Blair had only appeared in a couple of nearly completely unseen comedies, but had worked as a child model since age 5 appearing in 75 commercials for Welch's grape jam and various other companies. Although the admittedly opaque pro-religious message of The Exorcist both ironically and exponentially raised American church attendance, fearful Christian groups took aim at the picture after its release, and in particular Linda Blair.
The film's producer Warner Brothers had to hire bodyguards for the actor for as long as six months after the film's premiere as Blair was receiving death threats, and she constantly had to move house to avoid stalkers. An odd conglomeration of big names and eccentric characters seemed to crave a piece of Linda Blair after The Exorcist; Charlton Heston, Karen Black, Gloria Swanson, Richard Donner, Mark Hammill, M. Emmet Walsh, Anthony Hopkins, Elizabeth Taylor, John Boorman, Louise Fletcher, Richard Burton, James Earl Jones, Richard Farnsworth, Henry Silva, Colleen Camp, Linnea Quigley, and a young Michael Wincott, among many others, were blessed with the opportunity to be eclipsed onscreen by Blair's ferocious devotion to acting, even in films of often lesser quality.
Born Innocent (1974) and Sarah T. - Portrait of a Teenage Alcoholic (1975) could not be considered "fun" viewing experiences due to their heavy subject matter (delinquency and alcoholism respectively), but appearing directly after the frighteningly realistic (for the times), almost documentary style direction of The Exorcist, these films suffered from low budgets, phoned in acting (apart from Linda Blair who always gives 100%) and preachy direction, which is lamentable considering their important messages.
In many ways these socially concerned made-for-TV efforts share commonalities with a film like Barbara Loden's Wanda (1970), though minus the subtlety and space with which Loden allows her characters to authentically exist in. Blair then appeared in the frivolous, made-for-TV romance thriller Sweet Hostage (1975), which was controversial for its alleged glamorisation of Stockholm syndrome. The film features an entrancingly maniacal performance by an attractive young Martin Sheen as her deranged kidnapper. Originally Blair accepted the role in the hopes of persuading the producers to cast her then boyfriend Rick Springfield (the Aussie rocker who is now known for his song Jessie's Girl, which was immortalised in the coked-up firecracker sequence in Boogie Nights [1997]), but when Sheen was cast instead she fell madly in love with him.
And even though her feelings weren't reciprocated, Linda Blair has stated that this is her favourite film of her own. The film's character's questionable relationship mirrored Blair's own relationship with Springfield, who was 25 when he seduced the 15 year old minor (though Linda's mother not only tolerated the relationship but apparently "loved Rick", welcoming him into the family with open arms). Sweet Hostage, directed by Peyton Place actor Lee Philips, even received a theatrical release in Japan where Blair became a pinup sensation after being featured in magazines using images of her nightgown clad, farmer character.
To refer to 1977's Exorcist II: The Heretic as an abomination is a titanic understatement and the film is as respectful to the original's source material as the hammy Leslie Nielsen spoof Repossessed (1990) is, and both are equally cringe inducing. Although Blair joined The Heretic with the best of intentions (before the script apparently went through a number of debilitating rewrites), her decision to reprise the demonically inhabited teen from the classic it parodies in Repossessed was likely made so she could fund one of the various animal shelters she has helped facilitate in later years. Unfortunately by the mid late 70s Linda Blair had acquired a cocaine habit and during the production of The Heretic continually turned up late to the set. Her addiction must have become quite unmanageable as she reportedly considered it an achievement when she was only 20 minutes late one day.
Around this time (at age 18) she was arrested for drug possession and conspiracy to sell drugs. She pleaded guilty to a reduced charge in exchange for three year's probation and was also required to make at least 12 public appearances to advise young people of the dangers of using drugs. Blair has said that the judge singled her out due to her connection with The Exorcist, giving her a far more harsh punishment than the other people arrested in relation to the rather complex Florida case.
Whatever Happened to Linda Blair? Concludes in November's Artbeat
IMAGE
Linda Blair in Exorcist II, The Heretic, 1977 American horror film directed by John Boorman and written by William Goodhart