Blog
ArtBeat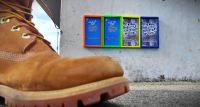 Street art festivals have become increasingly popular across the world and here in Aotearoa (from Bluff to Whanganui), embraced as tools for urban regeneration, activation and transformation. However, the majority of these festivals have largely focused on massive mural works, leading to something of a redefinition of street art and narrowing the understanding of the potential contributions to our surrounding urban landscapes through more diverse performances. If you were to survey people for their favourite pieces of street art, the overwhelming consensus would likely be blockbuster mural works. Indeed, 'the bigger the better' appears to have become the mantra for many street art festivals.
This is entirely understandable. The effective visual impact of huge murals and the attraction and benefits provided to stake-holders (a definite 'bang-for-your-buck' sales pitch) is clear. However, muralism's dominant position has also obscured street art's longer interventionist histories and performances, where elements of urban space have been re-imagined and subverted in incredibly varied ways, often at smaller, more surprising scales.
In 2020, Watch This Space began developing the concept of The Little Street Art Festival, exploring an alternative approach to street art festivals. Now, The Little Street Art Festival is inching closer to reality, hoping to add a new and unique layer to the Aotearoa and Ōtautahi urban art scenes and strengthen the city's reputation as an urban art destination. Conceived as a companion to mural-centric events, such as the popular and successful Flare Street Art Festival, The Little Street Art Festival is a celebration of the smaller side of urban art. From stencils and sculptures, installations and urban craft, projections and performances, post-graffiti street art has always illuminated small moments of engagement amongst the bustle of urban life, reminders to look closer and explore. These smaller works bring play and whimsy, invite reflection and exploration, and ultimately weave art intimately into the cityscape.
The Little Street Art Festival will illuminate street art's diverse approaches, where a strong Do-It-Yourself ethos has ensured any material can be harnessed and deployed within the urban environment, from paint to ceramics, paper to yarn and everything in between. Inspired by the likes of miniaturist Slinkachu, stencil artist C215, iconic mosaic artist Invader, yarn bomber Olek, paste-up and installation artist Swoon, urban sculptors Mark Jenkins and Isaac Cordal, painter Helen Bur, and the numerous urban artists who have used diverse approaches to make big statements in small ways in cities around the world, The Little Street Art Festival will provide a support platform for artists whose work does not as easily transfer to two-dimensional large-scale muralism, increasing opportunities for creatives to explore new directions and find new audiences.
Planning is under way for The Little Street Art Festival to emerge in Ōtautahi in 2023, with a largely local roster of artists producing both temporary and longer-term works throughout the central city for the public audience to explore. A recent, unassuming addition to New Regent Street, Ghostcat's Haunted Teacup, a playful interactive viewing box that riffs on the reality of anticipation versus reality, was created as an example of the types of work the festival will feature. The worn construction dares the viewer to peer into a mysterious box, promising supernatural terror, before an ultimately mundane encounter reveals intentional disappointment, leaving viewers bemused by the experience.
The festival's urban installations will be accompanied by a programme including guided tours, artist talks and workshops, increasing the potential for engagement. The Little Street Art Festival is currently raising funds and planning for 2023, when this new presence in the city's creative profile will hope to make a little difference.
DETAILS
For more information: https://www.littlestreetartfestival.co.nz or follow The Little Street Art Festival on social media for updates.