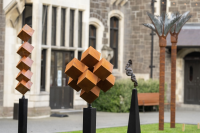 The Arts Centre Te Matatiki Toi Ora is holding its 3rd annual Sculpture Festival in its courtyard spaces and Great Hall in September. Curated by founder and director of Form Gallery, Koji Miyazaki, the event has its origins in the decision to create a unique annual attraction that would cultivate new audiences and encourage previous visitors to return to the Arts Centre for a keenly anticipated annual event. (Miyazaki opened the contemporary jewellery gallery Form in 1993 in Cathedral Square, its glass artists, sculpture and ceramic artist representing a unique stable of artist. Form is now located at 468 Colombo Street in Sydenham).
Arts Centre director Philip Aldridge and creative director, Chris Archer invited Miyazaki to discuss the establishment of a Festival that would grow visitor numbers and contribute to the Arts Centre's role as a significant central city arts institution. This would not be a one-off event like a concert. Rather it would be held annually, and once people had experienced it they would put it in their calendar and return in the following year.
Warren Feeney talked to Koji Mayazaki about the 3rd Arts Centre's Sculpture Festival: 'In its first year in 2020, not many people really knew about it and in the second year, Covid 19 made it a challenging event to promote, but we are now in a more fortunate position with more people coming through the Arts Centre. We didn't know how people would react to the Festival in its first year and, where tourists were unaware it is a charitable trust, assuming that the Arts Centre is a public building open to all, our initial plan that year for an entry fee was reviewed and the Sculpture Festival became a free event in 2021.'
'When we decided to launch the Sculpture Festival, we wanted it to be distinct from other public art events. It is sculpture but it is also about objects, works that are smaller and more domestic in scale. My background is in contemporary jewellery and small sculpture, and the Arts Centre liked the idea of it being broad in its reach. A place for everyone where children and adults would both be engaged, and also an arts festival that was not just for art collectors and regular gallery visitors. Those people are important to the Sculpture Festival but it is an annual event for everyone. There will be artists' talks, demonstrations and workshops.
Although contemporary jewellers and glass artist are generally absent from sculpture festivals their practices are about objects and 'precious' materials and realistically, while every event at the Arts Centre is not about generating review for the Trust, the Sculpture Festival does provide helpful revenue. These ambitions go together with the Arts Centre's plans to grow the numbers returning and capturing first-time visitors.'
For the Sculpture Festival, Miyazaki's exhibition spaces include the court yard space beyond the Worcester Boulevard entrance close to the Canterbury Museum and the adjacent interior space of the Arts Centres', Great Hall, taking responsibility for overseeing the installation with the participating artists.
So, who is featured in 2022 at the Sculpture Festival? 'This is my 3rd year and I have a number of artists that I know well whose work is collectable, and also up and coming artists representing a range of arts practices and popular, affordable artists' works.'
The list includes, Fiona Tunnicliffe and her ceramic animals whose work is complemented and contrasts with Tony O'Grady's bronze figurative sculptures and Matthew Williams' geometric sculptures in bronze corten steel, timbers, marbles, concrete and steel, his attention to the qualities of his materials of choice, central to the experience of his work.
' For 2022, there are a number of local jewellers that have been part of it previously, but the decision about the inclusion of specific artists has been decided upon with Chris Archer and ceramic artist Tatyana Meharry. It is a group decision, looking at the work and finding something new. In 2022 it will feature works in bronze by Debbie Templeton-Page and Ruth Killoran's stone carving.'.
'The exhibition also has an educational role and that is necessary. It is about cultivating an artist's practice over years and introducing them to new audiences.'
'The Arts Centre's architecture is also a significant part of this as well. The Great Hall is an amazing venue. At first I found it difficult as an historical building as you cannot use nails in the fittings or walls, but the history of the building adds so much more to the Festival. How to organise each artist's work as an exhibition of its own in it? It is important that the experience is not overwhelming and I try to create a panel or space for each artist, grouping them in particular areas. It is about allocating each artist's work enough space. The Sculpture Festival acts like a series of solo exhibitions all put together for this important annual event.'
DETAILS
Sculpture Festival
The Arts Centre of Christchurch Te Matatiki Toi Ora
2 Worcester Boulevard
Festival weekend, talks, workshops, demonstrations, food and music
3 -16 September

IMAGES
Sculpture Festival 2021, From left: Matthew Williams Velocity,corten steel, Matthew Williams Resist, corten steel, Debbie Templeton-Page, Around we go, bronze and steel, Jane Downes, Nikau Palms l, rusted and galv steel, and Jane Downes Nikau Palms ll, rusted and galv steel
Sculpture Festival 2021, Steve Fullmer, Clap your hands, ceramic