Blog
ArtBeat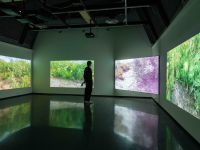 The nature of the Olivia Spencer Bower (OSB) Award doesn't always produce an exhibition of final work, but a record of the time afforded the artist by the residency. That's not to say an exhibition is an end in itself, although it may be treated so, often it is not. In the case of Melissa Macleod's Pig Face, Hare's Tail and the New Day (2021–2022), the multiscreen projected moving image work presents an honest look-in to the methodical, meticulous practice of the artist. In typical fashion, the title also nods to classifying and categorising.

Hare's tail: dusty yellow, green; a high, constant insect chirp.

Seven projections give almost a 360° perspective of Melissa collecting seeds of coastal flowers and plants at New Brighton beach, Ōtautahi. The cameras have been positioned close to the ground, giving the effect of crouching within this particular landscape. Though the colour of the sand, the grasses and succulent-type plants are familiar to me, I cannot name them. The ambient soundscape is calming and enveloping.

Not a lot changes in the landscape over the course of the filming; Melissa circles once around the cameras, slowly collecting samples into a plastic container, returning to the starting point to place them in the prepared jars. Standing in one frame, she casts a shadow into the next. Melissa is not seemingly concerned with making a "pretty" film, this is a stark and honest acknowledgement of the environment she knows well. The camera shots are not conventionally framed, we see the artist only partially, arms reaching, hands picking. This is not for show. I'm not even sure to what extent this is for us at all—and yet it feels generous to reveal this process for viewers.

New day: yellow, orange, red; the sound of jars clinking and jandals scuffing sand.
The purpose of collecting these seeds is not evident in the work, nor is it made any clearer by Kayla Marshall's catalogue text which mentions vaguely something to do with community; images in the catalogue include drawings and studies towards a "flower mountain". The word "community" follows Melissa's practice, but the best way I understand it is from the perspective of activism; works such as Weight (2016, CoCA) and the slow amputation of her protective arm (2018-2019, Te Puna o Waiwhetū collection) open discussions about the precarious nature of living on the coast with threats to of flooding and climate disaster. Pig Face, Hare's Tail and the New Day is different; at least in this form, the work doesn't seek to inform the audience. I wonder where, in future, we will encounter coastal flowers where they might not have been before, or a flower mountain, whatever that may be.
DETAILS
Melissa Macleod, Pig Face, Hare's Tail and the New Day
Ilam Campus Gallery
University of Canterbury, Fine Arts Lane, off Clyde Road
25 February - 29 April
IMAGE
Melissa Macleod, Pig Face, Hare's Tail and the New Day (installation). Photograph: Sam Quinn