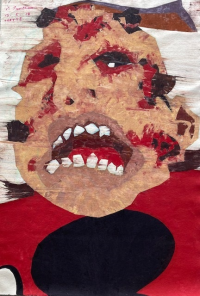 In the 2011 biography on expressionist painters, Philip Trusttum, its author, senior lecturer in Art History at the University of Auckland, Robin Woodward, succinctly gets to the heart of his painting in a single sentence: 'Philip Trusttum's intellectual curiosity and the stimulus that he finds in art history constantly overlap with content from his domestic environment.'
Certainly, the artist's career is frequently referenced in New Zealand's art by the Garden Series, (1973 – 1975), many of the works from this period held in the collections of the country's public galleries as evidence that the influence of European Modernism and German Expressionism in Aotearoa in the 70s, realised and resolved the challenges of the relevance of international art movements within a local context. It is also worth mentioning that Trusttum was not alone, sharing company with Philip Clairmont, Jeffrey Harris and Jacqueline Fahey.
Yet, where a painting like Fahey's Sisters Communing, 1974, documents the family lounge as a claustrophobic site for any family conversations, in the spirit of Expressionism , Trusttum also gets the humour of Expressionist painting as well as its ongoing relationship with themes around panic and anxiety.
The pleasure of Trusttum's Garden Series is in the manner of Expressionist painting, but the mood of these paintings is more directly joyful. Four decades later, the animation and delight of Trustum's "Gardens" remains but now his subjects seem more complicated and questioning – their relationships with the reality of life is fleeting, and Trusttum's animation of moments in time as ambiguous as they are certain and empathetic.
For the past four decades his paintings have been defined by such ambience and attitude. For example; two paintings by the artist from 2018, Odette and Go go, reveal their broad, painterly, colourful Expressionist foundations, their subjects typically, insisting on sharing the gallery space with interested visitors.
Yet, the confronting figure, assumingly stopping and directing traffic forward in Go go, also reaches towards us, absurd and uneasy in their actions and movements, yet really in control. Indeed, the more time spent with him, the more empathetic his circumstances appear.
The figure in Trusttum's Odette is similarly confronting, pushing on all four sides of the canvas to get beyond the constraints of the picture plane to be heard. Who is Odette? It could be a grandchild, a punk rocker, fighter or sports-person, and with the 'damage' to their face as evidence of serious harm, might it not more rationally be party night, with face-marks, trick or treating (the red and black jersey suggests dress-up) or a child seeking attention from family?
Trusttum's narrowing of our attention to the subjects of painting that are not about to give themselves up, (The mythical creatures that occupy the majority of paintings in his 2004 series, Pictures at an Exhibition, comes to mind) unified by an attitude and disposition that is certainly about the daily circumstances and wider picture and contexts of Trusttum's domestic environment.
DETAILS
A Series of Paintings by Philip Trusttum
Chambers Gallery
80 Durham Street, Sydenham
IMAGES
Philip Trusttum, Go go, 2018, acrylic on canvas
Philip Trusttum, Odette,2018, acrylic on canvas