Blog
ArtBeat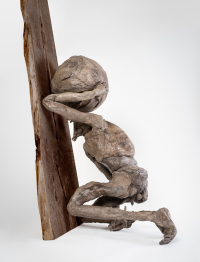 Francis Upritchard's newest show, Paper, Creature, Stone at Christchurch Art Gallery, is a clear response to contemporary times, representing strength in numbers and the beauty of collaboration. Based on the story of Sisyphus, the show captures the seemingly never-ending battle the world has faced against the pandemic. But Upritchard's exhibition is not about the struggle of Sisyphus but the lesson learnt from his myth. Sisyphus features in Greek mythology as the trickster who receives the punishment of pushing a boulder up a hill, only to have it roll to the bottom again once he gets it to the top. He is doomed to repeat this literal 'uphill battle' for eternity. However, Paper, Creature, Stone celebrates collaboration and how togetherness makes the impossible seem possible.
Outside the William A. Sutton Gallery, Sisyphus comes into view. A twisted figure lurching its body weight against the boulder on an angled wooden ramp, a visible struggle of a prisoner in turmoil. His monotonous brown form struggles in the centre of the room with writhing skin that causes both discomfort and sympathy. Upritchard created the figure from balata rubber, taken from a rare Brazilian tree in the Amazon harvested only once every two years by the native peoples. Surrounding Sisyphus is colourful celebrations of collaborative practice, using polymer clay, ceramic, leather, glass and stone as starkly contrasting materials.
The exhibition results from Upritchard's 2020 - 2021 residency at Sutton House, co-organised by Christchurch Art Gallery and the Ilam School of Fine Arts at the University of Canterbury, from which Francis graduated in the late 90s. While in her residency, she collaborated with potter Nicholas Brandon, designer Steven Park and jeweller Karl Fritsch which brought together this multimedia display of figurative movements. Alongside Upritchard's small, alienist but charming figures dotted around the gallery is expressive brushwork and pigments, depicting creative imagery of Sisyphus and configurations of limbs and movement on various canvases. There is a sensation of lively positivity throughout the exhibition, visually representing the desire for interaction and human companionship after our years of captivity at the hands of COVID-19.
Francis Upritchard was born in New Plymouth in 1976. She has spent much of her career in London and has exhibited worldwide. Her next venture is as one of nine artists selected to create large-scale commissions outside the new Sydney Modern.
DETAILS
Francis Upritchard, Paper, Creature, Stone,
Christchurch Art Gallery Te Puna o Waiwhetū, corner Montreal Street and Worcester Blvd
2 April – 7 August
IMAGE
Francis Upritchard Sisyphus (detail) 2021. Rubber and wood.