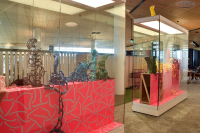 Curated by Selwyn District Council's Arts Programme Coordinator, Chol e Cull, Pahū! (to burst, explode, pop) is a group exhibition at Te Ara Ātea, the new public library which opened in Rolleston in December 2021.
Pahū! is a series of large-scale works and installations by five artists: Judy Darragh, Turumeke Harrington, Janna Van Hasselt, Miranda Parkes and Clara Wells. Cull describes the integration of works in the library as encouraging visitors to explore and discover its new community spaces. Visitors will 'encounter works in unexpected places, as colour and form explode out from the wall, the ceiling, or the confines of glass cabinets.'
Pahū is an exhibition that prioritises the presence of each artist's work, whether colour, scale or materials, each possesses a unique authority, a recently commissioned work by Darragh, Lunge, a work crated from recycled plastics, suspended above the book shelves, as an open-ended puzzle and creature with a presence as a public sculpture and good reason to visit Te Ara Ātea's community lounge. It is one of two works in Pahū by Darragh, the other being Fluorescent Jellies, a wall-installation loaned from the Lincoln University Collection.
Cull comments that her objective for the library is to create a 'multi-use space where we see cultural experiences embedded within a community, and important to this is thinking about how contemporary art can function within the space. Almost incidentally visitors are engaging with the art.'
'Roughly every six months there will be a big changeover, so two or three times a year there will be a new temporary exhibition in the space. The Selwyn Council's art collection is historically strong and with Pahū I started with Judy Darragh works and then looked at artists with either whakapapa Māori to this area or Christchurch artists. I thought about a surprising engagement for visitors, the artists thinking about colour, texture and materials, and there are shared themes across the works. Miranda Parkes is reusing a canvas for her new painting, Open Relationship, a work from a previous exhibition at the Tauranga Art Gallery, cut and reformed for this space and Janna van Hasselt has reconfigured works from her exhibition, Chromasill at the Ashburton Art Gallery in 2021.'
'All the artists have responded directly to the site in the development of new works. Informed by Ngāi te Ruahikihiki cultural narratives and taonga species, Turumeke Harrington's, Hei Aho acts as a place marker. Like the tī kōuka tree used by her Ngāi Tahu tīpuna for way finding across the Canterbury plains, Harrington's work is a glowing beacon in the first floor window of Te Ara Ātea.'
Clara Wells' The Search and The Return is a 54 minute video projection from an artist who priorities drawing, sound and animation, spanning a 20 metre long wall. Cull notes, 'it is animated digitally by hand and transmits messages across an ethereal background. Kids like it. They chase the dots. It is a combination of digital and animation with seven projectors.'
'Instead of just the local I am thinking about what stories can be told and what collections or other places can be drawn to our attention. We have to think about the library as a multi-use space and artists see that as an opportunity, excited about working in a space like this, drawing on and responding to its resources.'
DETAILS
Judy Darragh, Janna van Hasselt, Miranda Parkes, Turumeke Harrington, Clara Wells, Pahū!
Te Ara Ātea, Rolleston, 7643
Until 31 January 2023
IMAGES
Miranda Parkes, Open Relationship,2022, acrylic on canvas
Janna van Hasselt, Title? 2022, glazed ceramics and mixed media