Blog
ArtBeat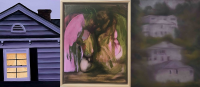 Padraic Ryan, Chloe Summerhayes and Sam Walker each explore a preoccupation with place, perspective, and process, conjuring deeply personal emotive atmospheres in distinct painting practices at Chambers Art Gallery.
From preliminary studies, Chloe Summerhayes creates absorptive negatives in expressive abstract mark making. By turns accumulative or reductive, Unearthed consciously leans into the performative pull conjured by its surface and temporal process - building up and wiping away, gradually drawing out gestural forms in slow-drying oil.
Resulting works are glossy, with the eggshell lustre of polished stone. Truncated Rubenesque swells, horizons, and hollows are simultaneously realised and unravelling, tangling with allusions to mythological knots and fleeces – an archaeology of classical artefacts, architectures and broken idols uncovered in the removal of pigment.
Pieces by Sam Walker blur with feelings of belonging, nostalgia and disconnect. After completing her MFA at the Ilam School of Fine Arts in 2020, Walker relocated to Wellington, finding herself a stranger in a new place. She recalls a dislocation by degrees, and disorientation amongst the hills of our capital city.
Rainy blush-tinted dreamscapes position the artist and audience at the centre of a painterly upheaval of line and colour. Glimpses of landscapes from a great height, and weatherboard houses amidst dripping greenery, are clouded, coloured as though through panes of vintage glass. Scenes swim below visual aura; the viewer sees at once up to, and beyond the object surface - a dual awareness, a double vision.
Padraic Ryan poses new narratives for the lighted windows of his home city, imagining the routines and realities of those within. Detailed documentations of Ryan's nocturne wanderings weave an immersive cool and quiet, coaxing an unexpected depth of colour from the spaces between hazy night lights.
This series brings an uncanny new dimensionality to domestic exteriors. Compositionally close and angular, pieces both implicate and isolate the viewer, a twilight passer-by looking in on ideas of comfort and homey-ness from an outsider perspective. Suggestions of late nights and early starts, patterns of care and coming and going, lend a raw sense of both familiarity and disassociation to suburban surroundings.
New works by Padraic Ryan, Chloe Summerhayes and Sam Walker frame dialogues around concepts of determination, dislocation, and disassociation. These modes of searching and questioning offer a sense of journey rather than destination, leaving room for further recentring, rewriting and revisioning of stories and spaces.
DETAILS
Padraic Ryan, Chloe Summerhayes and Sam Walker
Chambers Gallery, 80 Durham Street, Sydenham
2 – 19 March
IMAGE
3. Padraic Ryan, Out of sight (2022). Oil on board. Chloe Summerhayes, Untitled XVI (2022). Oil on canvas. Sam Walker, After Chaos (2022). Oil on board. Image courtesy of the artists and Chambers Gallery.