Blog
ArtBeat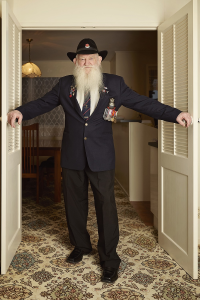 If you have an hour without the kids in Christchurch's city centre, I urge you to spend time in this exhibition. When I visited, it was the school holidays, and I was grateful that I wasn't one of the parents trying to track down their children as they raced around the Canterbury Museum. If you go to see Operation Grapple each label is as captivating as the last, demanding full attention. The exhibition contains first-person accounts of Navy veterans narrating their lives during and after their time on the HMNZS Pukaki and Rotoiti Ships, ships which were sent to Kiritimati and Malden Island in the 1950s to assist the British in their nuclear testing.
It is an unfortunate truth that many of us are unaware of Aotearoa's involvement in the history of nuclear testing and the devastation caused in the Pacific. Photographer, Denise Baynham's passion-project portrait exhibition is a testament to how these narratives can inspire people to delve deeper into this part of history. Baynham began this project after visiting the Devonport Torpedo Bay Naval Museum in Auckland, becoming transfixed and dedicating time to ensure that the stories of these veterans were told.
In 1957 and 1958, the New Zealand Navy sent support to the Pacific for nine British Nuclear tests, on Kiritimati (also known as Christmas Island) and Malden Island, now a part of Kiribati. Aboard these ships were 551 personnel from the New Zealand Navy. With tests over one hundred times larger than the atomic bomb in Hiroshima, those serving on the ships saw unimaginable and awe-inspiring acts. Interestingly, some of the veterans described the experience of witnessing the bombs as "wonderful,""awesome," majestic, "marvelous" and even "beautiful." But as many of these men had joined the Navy when they were 14, 15 or 16 years old, they had no idea what their devastating fascination would cause in their futures.
The exhibition will stir emotions within, calling on empathy and understanding for men who were rarely acknowledged for how their service later destroyed the physical and mental health of themselves and their families, providing an understanding and emotional connection to an aspect of Kiwi history which should be better acknowledged.

DETAILS
A Portrait Photography Exhibition by Denise Baynham, Operation Grapple: We Were There
Canterbury Museum Rolleston Avenue
13 May - 16 October
IMAGE
Denise Baynham,Philip Payton, 2021, photograph courtesy of Denise Baynham, (Canterbury Museum)