Blog
ArtBeat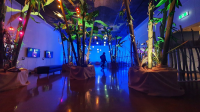 At the end of June, I travelled down to Timaru to visit my parents (and ended up sticking around into July due to a familial visit from the Covid fairy). As I am wont to do, I popped into the Aigantighe Art Gallery – one of the under-appreciated cultural treasures of the South Island.
I'd gone in to check out the architectural proposals for construction of a new modern gallery wing to the old historical house once that grand old lady has been earthquake strengthened. This happened to coincide with the installation of a major interactive multimedia exhibition Matariki Ki Te Tihi-O-Maru 22 celebrating our newest public holiday Matariki.
It's exciting to see how South Canterbury is taking Matariki as an opportunity to embrace the region's Māori heritage. It's come a long, long way since the days I grew up there. As an installation and experience this would be ambitious for the Christchurch Art Gallery Te Puna o Waiwhetū or the Dunedin Public Art Gallery, so it's awesome to see Timaru aiming high.
The Aigantighe is partnering with event production company Vibrant NZ, Te Ana Māori Rock Art Centre and Te Rūnanga o Arowhenua, with a particularly wonderful exhibition of graphics by Arowhenua representative Francine Spencer (Kāti Māmoe, Ngāi Tahu, Waitaha and Taranaki). The exhibition interprets the relevance of Matariki for Kāi Tahu. Matariki is a star (Alcyone in Western astronomy) in the cluster Western astronomers call the Pleiades. This cluster has held important significance for a multitude of cultures around the world for millennia. The name Matariki is also applied to the entire cluster, and for thousands of years its pre-dawn rising has signalled the solstice and the Māori New Year.
For Kāi Tahu, Matariki is less important than the rising of the star Puaka (Rigel in the constellation of Orion), signalling the change of season, marking the end of the tītī (muttonbird) harvest and the tuna heke (eel migration).
Perhaps the most stand-out component of Matariki Ki Te Tihi-O-Maru 22 is the complex programmed system of moving and colour-changing light globes that, planetarium-like, illustrates tātai Aoraki (Māori astronomy) as understood by Kāi Tahu.
This is important as a lot of the vision of Matariki has been top-down and North Island heavy. It was a truly magical experience from the Aigantighe and sets a high bar for future celebrations of the holiday.
DETAILS
Matariki Ki Te Tihi-O-Maru
Aigantighe Art Gallery,
49 Wai-iti Road, Māori Hill, Timaru
1 - 24 July
IMAGE
Installation, Matariki Ki Te Tihi-O-Maru, photograph: Andrew Paul Wood