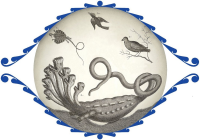 Marian Maguire describes her exhibition, The Enlightenment Project as an endeavour that is without end. Exploring and making sense of documented histories of the Western world, its philosophies, advances in technology and dominating presence in the 21st century are all open for extensive reconsideration and review. From its origins in classical antiquity, Christianity, scientific discoveries, the Age of Enlightenment, and its expansion into the Pacific in the late 18th century, agendas and actions come together in an amalgam of ideas and circumstances, their familiarity propositioned anew.
Maguire says among the many questions the exhibition raised, it began by asking how the Western world took over most of the world during its initial period of expansion in the 16th century, directing her to make a timeline for the exhibition, encompassing the period from 1500 to 1900.
'English expansion got going around 1588 with the defeat of the Spanish Armada and for this period of time I have historical events, philosophers, events and scientific breakthroughs. From there I began to see unexpected clusters of events and ideas. For example; the French Revolution and Captain James Cook's arrival in New Zealand occurred around the same time, and Britain's push into the Pacific was driven by its competition with the French. Competition between countries in Europe became intertribal warfare pushing out across the oceans.'
The exhibition is also accompanied by an impressive publication with numerous images of The Enlightenment Project's archival digital prints and essays by art historian Elizabeth Rankin, writer and translator, Giovanni Tiso and journalist and writer Sally Blundell. Rankin's essay 'The Enlightened Gaze', backgrounds Maguire's lithographs from 2003 to 2011 and three series in particular: The Odyssey of Captain Cook, 2003 – 2005,The Labours of Herakles, 2006 – 2008 and Titokowaru's Dilemma, 2009 – 2011. These images from Maguire brought together European and Māori in a grouping of curious relationships between coloniser and first people.
In The Enlightenment Project Maguire considers the works in a wider content. 'When working on the exhibition my question was to understand Western thinking. I am steeped in it and the things I have inherited. I have come to understand colonisation as a steady encroachment. It took many forms and tactics. For example, English is the dominant international language. If ideas are not translated into English they are not part of the discourse. It sets everything. People would comment to me on those earlier series: Why are you doing this Māori work? My answer is that it is our history as well. We, pakeha, are Westerners living in Aotearoa and I am investigating what that means. We know colonisation is a bad thing. The emotional response is to separate ourselves from the history. But that also means not taking responsibility.'
'The plan for the exhibition has been to create a map. The Enlightenment Project draws upon a history of Western culture and its expansion but it is not a linear narrative. While working on it I learned so much that was surprising and illuminating. It has opened up unanticipated possibilities and perspectives. Post-colonialism is the driver. I wanted to understand the mindset of colonisation. The assumption made here, is that it was a single strategy through one channel. But among colonists I read about I became aware that people had diverse thoughts on colonialism, even politicians were arguing over the conversations and the way it was happening, both for and against. How does colonisation happen and why does colonisation happen?'
Bringing together more than 350 years of Western culture and discovery, Maguire notes that by necessity, she had to finish the work for the exhibition before the writers could start on their essays. 'It was a struggle to hold such a wide-ranging project together in terms of writing and they picked off different areas. Elizabeth Rankin had the hardest job as she covered my visual iconography, spoke to my ideas, and framing this new series in my earlier work.'
Maguire comments that she is not trying to push for a conclusion to all the questions, just to present the information, yet Rankin adds: 'it is not possible to look at these exhibits without being prompted to think about knowledge and beliefs in new ways and ponder on how ideas develop.'
DETAILS
Marian Maguire, The Enlightenment Project
PGgallery192, 192 Bealey Avenue
9 August - 3 September

IMAGES
Marian Maguire, Sight and Blindness II – Expansion,archival digital print
Marian Maguire,Eye-Creatures from distant land, archival digital print