Blog
ArtBeat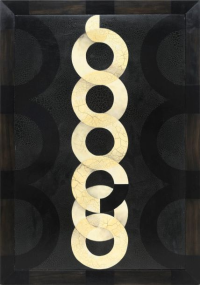 "And blood-black nothingness began to spin, a system of cells interlinked within, cells interlinked within cells interlinked, within one stem. And dreadfully distinct, against the dark, a tall white fountain played."
In a show that features both a return to earlier formalist concerns, and a resplendent demolishing of such considerations, Julia Morison shelves her recent focus on the sculptural and presents us with a stark return to painting.
The artist also finally makes the significant transition from incorporating her own faecal matter in past work to now bequeathing anti-malodorous, smeared, runny dog shit (courtesy of her dog, Mouse) to a generous portion of the paintings in this recent show at the Jonathan Smart Gallery.
In detailing the 'Eight Essential Attributes of the Short Story', writer Joy Williams says "There should be an animal within to give its blessing", a sentiment not lost on Julia Morison. It is hard not to read Morison as a provocateur of sorts, and refreshingly so in that we find amid the stiff, bourgeois gallery setting such indecorously earthy movements coexisting alongside more traditional materials in her subversively decorative compositions.
Her illusory, geometric configurations tend to celebrate extremes by marrying, for example, the ominous, architectural stupefaction of Fritz Lang's Metropolis with the refined graphic work of Leonardo da Vinci. The bone tinctured, cracked marble of a Tarkovsky swimming pool provides the bedrock for many of the mid to large-sized portrait format pieces which constitute the bulk of the show. There is a sepia-tinged, drab majesty which insidiously disperses like a charming pathogen through the paintings, corrupting even the Escher-like minimalism of the exhibition. Usually modestly operating in the mode of premiere New Zealand post-surrealist, Morison here utilises her graphic design background in executing abrupt, yet clandestine squares, buried triangular forms and mesmeric rectangles.
Through her use of nontraditional materials such as twink and rust, Morison investigates notions of erosion and disappearance through a number of damaged, gestural scratches which populate the surface of the works. In a conversely salient and dissonant black painting, offering a seductive snake scale texture, interlinking Nabokovian cracked bone cells drip, dangling from the upper centre. Whether through the bird's eye view of a black and white Islamic mosque floor or the swirling (anti) colour wheel of a bull's eye with damaged, running grease for its centre, these paintings are highly evocative of exotic worlds far from the safety of our Canterbury plains.
DETAILS
Julia Morison, 3(.)6 degrees of separation
Jonathan Smart Gallery, 52 Buchan Street
6 May – 4 June
IMAGE
Julia Morison, Omnium Gatherum 82, 2022, mixed media on board