Blog
ArtBeat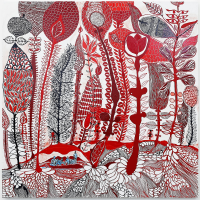 Niuean-born artist and writer John Pule initially established a strong visible presence in the arts in Aotearoa from the early 1990s. Initially he became best-known through the written word, the publication of The Shark that Ate the Sun (Ko E Mago Ne Kai E La) in 1992. Yet, almost simultaneously, his presence and influence as a painter and printmaker revealed a distinct visual iconography of paintings and prints that equally defined the unique nature of his arts practice.
Pule has been seriously praised as writer and painter, both practices informed by the density of their narratives and worlds he outlines in both their detail and broad perspective on the Pacific, its past and present. Exhibiting extensively throughout Aotearoa in solo, group and survey exhibitions at dealer and public galleries, his lithographs and paintings continue to sustain interest in their richly complex patterns of landscapes and seascapes occupied by humankind and all living creatures of planet earth – often also typically realised as residing within a measured grid structure; hiapo, the traditional Niuean tapa barkcloth. Pule's current exhibition at the Jonathan Smart Gallery, Aukia/Waiting is well represented by such works on paper, the rhythm and order of the land reaching to the edges of the picture plane, the implicit journey across these landscapes and worlds for the gallery visitor, assured of both certainty and chaos, their direct line of travel, broken by the splash of ink and spidery marks that may be signaling possible side-steps and diversions. They are Pule at his best.
And there is more, a group of large-scaled paintings by the artist that include, Anoiha (we will return in the future), (see page 10) is a new work by the artist in enamel and oil stick on canvas that is familiar in its imagery; a family, mother, child and family group, within and encircled by a landscape and sky-scape of flora and fauna, abundant in scale and presence. Towering and enveloping its subjects, Pule's flowers and plants pulsate with an energy and animation that seems as tangible as it is ethereal, the spark of life itself and an affirmation about the deeply held relationship of humanity with all the natural world. John Pule's Aukia/Waiting is a wonderful creature.
DETAILS
John Pule, Aukia/Waiting
Jonathan Smart Gallery
52 Buchan Street, Sydenham
9 September - 7 October
IMAGE
John Pule, Kavaka, 2022, ink, graphite & oil stick on paper