Blog
ArtBeat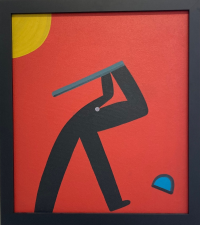 Chambers Gallery in Sydenham staged a moving tribute to renowned painter and printmaker Eion Stevens (1952 – 2021) with an exhibition of paintings by the artist in April. Ōtepoti-born Stevens is remembered as an exceptionally kind and giving man, an experimental maker whose paintings were as reflective and genuine as his character. His was a life and a practice characterized by both a reserve and great generosity; known for the ability to communicate volumes with a few choice forms, he realized scenes with economy and authority as well as insight and understanding.
From a phenomenal hidden cache, as-yet-unseen since the artist's passing, Chambers has selected pieces suffused with humour and anticipation, full of the promise of further gems to emerge in the coming years.
Distinctive flat planes and semi-realist figuration collide in intuitively painted collages. People and objects, the unruly inhabitants and painted set-pieces of Stevens' shallow proscenium fields become instruments of visual play. Forms slump and dance, row and reach and rest. Illustrative arms lift as though to cradle, shoulders round in sleep, curve against the pull of an oar or the beat of the sun.
Pieces gradually unfold, revisioning memories and commonplace encounters in wry laterality, critique, and double entendre. An eclectic melting pot of ideas and influences - literary, theatrical, musical, as well as affectionate homages to Picasso and Derain- combined in a dream-like logic. Narratives encompass a breadth of human behaviour and experience, offering unexpected new perspectives and ways of looking at the world.
This legacy of generosity is set to continue well beyond the artist's own lifetime, in the shape of a biennial exhibition that will support several local charities in turn. Proceeds from the inaugural edition in late April are to be passed on to Aviva, formerly known as the Christchurch Women's Refuge.
This show questions something of a complex wider relationship with his work, an inexplicable hesitation that has since dissolved, perhaps some collective feeling of trespass upon the evocative and personal imaginings of the artist. Always a private man, Stevens became increasing reclusive in later years, retiring from both painting and the public eye – a circumstance resonating with a melancholy akin to that recalled in Stevens' own artworks. It is heartwarming then to see these paintings bringing people together, sharing in a sense of deep love and respect tinged with loss, to celebrate the life and legacy of Eion Stevens.
DETAILS
In Praise of Eion Stevens (1952 – 2021)
Chambers Gallery
80 Durham Street
20 April – 7 May

IMAGE
Eion Stevens, against sunlight (2014). Glazed acrylic on textured board, 675x600mm. Image courtesy of Chambers Art Gallery.