Blog
ArtBeat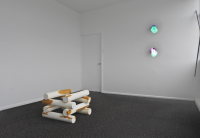 You wouldn't light a fireplace for anything other than cooking in central Thailand where my mother is from. I don't know if it's different in the North where Sorawit Songsataya remembers, I hear it's colder there. In Bangkok, in winter (28°C) people wear puffer jackets and hats—it's not uncommon to see dogs dressed in jumpers too. But the houses and apartments don't have fireplaces. A homefire is not a fireplace.
The hearth or homefire is symbolically loaded: traditionally of central importance within a home in colder climates, a symbol of family and protection in Greek mythology. In Homefire at Paludal, there is a hint towards what a homefire is for Sorawit through the ceremonial significance of beeswax. Sorawit has cast beeswax into hand-carved Ōamaru limestone, formed and arranged in the gallery to resemble logs. When we would visit my grandma's house in Bangkok, as a family—still jet-lagged—we would troop to my great-aunt's house, at the front of the compound, where the spirit house is. We would light candles and incense to greet the spirit and ask for protection during our stay, also thanking it for taking care of Khunyai (grandma) while we're away. I remember the very yellow beeswax candles.
Sorawit's 'fire' is two hologram fans. They make the same sound as a little desk fan which pushes hot air around when you wish for an aircon. On the fans' faces the fire dances through different coded configurations, the colourful spectrum is green sometimes, like in the moment just after lighting a firework—green fizz. They glitch sometimes, exposing a little of how they work perhaps. The shape of the flames is like that of an unsettled candle; small and contained but disturbed by something, jiggling in place. It seems to mimic the movements of a candle being carried, or floating down a river. For the Thai lunar festival Loy Krathong, lanterns of all kinds are floated down rivers, some just little 'boats' made of a banana leaf with a tea light on.
The cold digital fire, beeswax and Ōamaru stone don't immediately make material sense of the objects they appear to represent. Maybe the carved stone forms are more like the untapered thin candles found everywhere in Thailand rather than logs, although they are arranged in an iconic log fire stack. It gets cold in Aotearoa, more so in Ōtepoti where Sorawit is living as the recipient of the Frances Hodgkins fellowship, 2022. Homefire makes sense of memories and materials associated with another time and place, relocating them and adapting them for the climate and context of Aotearoa.
DETAILS
Sorawit Songsataya, Homefire
Paludal , 371 St Asapoh Street
10 March – 3 April
IMAGE
Sorawit Songsataya, Homefire, installation. Photograph: courtesy of Paludal