Blog
ArtBeat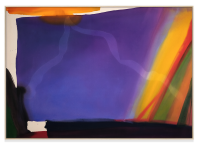 Who could have imagined ? A series of nine acrylic works on canvas from Gretchen Albrecht held in storage by the artist for more than four decades, never before seen in public. They came out of storage in 2021, the artist making the decision to take a second look at this series of paintings over three years, many titled on a variation of the word illumination.
In 2022 they represent the exhibition, nine illuminations 1976 – 1978, Albrecht briefly commenting: 'I always knew they were there but it was only late last year that for some reason I felt compelled to bring them out of storage, unroll them and look upon them for the first time in 46 years.'
nine illuminations 1976 – 1978 is a particularly evocative series of works by Albrecht, in part anticipated by her paintings from the early-1970s, revealing an increasingly formalist consideration of line and colour, even though some works remaining more directly figurative in their titles to suggest weather or place. As a later body of work, the imagery and titles for the paintings in nine illuminations 1976 – 1978 seems unquestionably certain in their reconciliation of their painterly abstraction and evocative subjects.
Dr. Luke Smith, lecturer in art history and theory in the Faculty of Art and Design and Architecture at Monash University's, accompanying catalogue for the exhibition adds to the discussion of these works: '…these nine stained canvasses 'return us to a phase of Gretchen's career that is largely unknown - a period of change and exploration that, in her own words, saw her tracking in strange country.'
He comments on Albrecht's painting, seasonal, 1976; 'Warm, saturated colour applied in delicious layers of overlapping washes and wandering lines mark an abstract pictorial territory of emotional suggestion… Prior to the mid-1970s, Albrecht had taken nature as the primary point of reference for her near-but-not-quite-abstract compositions. In the illuminations this began to change. Names like seasonal still called to mind natural phenomena, but these evocations were becoming more diffuse and other connotations were emerging alongside them. seasonal, for instance, no longer recalls a view to the horizon, where earth, sky and ocean converge. Instead, it suggests an overlay of two contrasting viewpoints.'
DETAILS
Gretchen Albrecht, nine illuminations, 1976 - 1978
NMG Gallery
141 Cambridge Terrace, Christchurch, Wed–Sat 10am–5pm
5 August – 2 September
Senior curator Mary Kisler will join the artist for a talk at the opening event, 6pm Friday August 5.

IMAGE
Gretchen Albrecht,seasonal, 1976, acrylic on canvas