Blog
ArtBeat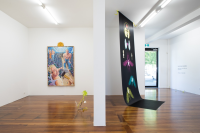 For the feral splendour is a group show featuring Laura Duffy, Owen Connors, and Aliyah Winter, the artists engaging with ideas that, when viewed with a queer perspective, connect the natural, unnatural and supernatural - A kind of love-song for the chaos that collectively we find ourselves living in.
By foregrounding a neo-mysticism, the works engage with wider conceptual theory, foregrounding queer experience and transformation through these ideas. In many ways the works are all self portraits, Duffy's work using her own cells and biology to give her work a different dimension, Winter's using digitally manipulated images of her body and Connor's a painted representation, using the ovum of another species.
Grounded by Connor's egg tempera paintings, the works build on each other. They start with a textural sense of groundedness and work their way up-and-up. Connor's own likeness is represented in a context that elevates the body from something simple, fleshy, organic to something to be cared for, protected but also used, scarred and lived-in.
Duffy's works draw on similar notions of a body that combines organic and synthetic material. A representation of bodily fluids and plant matter, the media used is consistently fore-grounded in Duffy's practice, her work draws on ideas of magic, transformation and cybernetics.
Winter's works suggest a metaphorical transcendence through the use of a celestial metaphor, printed digitally on cloth the works use fragmented images of the artist's body, alongside images of angels, aliens and text invoking transcendence, magic and fragmentation. The cloth is draped across the gallery in ways that suggest floating, lifting or hovering, a type of omnipresence.
In drawing on the convention of the self -portrait and building on the canonical genre For the feral splendour moves within the trope by dealing with the concept of post-humanism and strives, instead of inwards toward a collective vision. A future beyond anthropocentric individualism, and looking into the environments and relationships that our bodies function within.
Donna Haraway's Cyborg Manifesto is a seminal text within contemporary feminist studies in post-humanism. The text seeks to break down dogmatic western belief around identity, looking forward to a new understanding of the world, embracing the fluctuating chaos of our world, rather than seeking to constrain everything with categorisation, a drawing of lines where none exist.
For the feral splendour offsets convention and boundaries placed around the self portrait, by extension, the body, how it should perform, what it needs to do. The artists are collectively building a narrative that draws on a new vision of being by invoking ideas of the sublime, a state of simultaneous terror and awe that invites a gothic reading, a recurring theme in art in our local ecology. A memento mori, the reminder that a body must eventually face its own decay, that it will one day ascend into light and data or descend into darkness and ash.
DETAILS
Laura Duffy, Owen Connors, and Aliyah Winter
For the feral Splendor
The Physics Room
The Arts Centre Te Matatiki Toi Ora, 301 Montreal St
29 January - 6 March
IMAGE
For the feral splendour(installation view), 2022. Photograph: Janneth Gil.