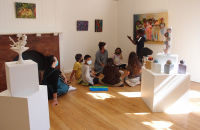 Eastside Gallery, part of the Linwood Community Arts Centre, is one of several community development projects that Te Whare Roimata Trust has established working alongside the people of the Inner City East and Urban Maori. (Others include Stanmore Book and Post, Smith St Community Gardens, the Tiny Shops Village and the Tin Roof Op Shop). Collectively their kaupapa is Treaty-based, grassroots focused and aimed at building community, enhancing wellbeing and strengthening social cohesion.
Liz Boldt is the Community Arts Development Co-ordinator for Eastside Gallery, delivering an exhibition programme that is community-focused in a way that has few comparative models in Aotearoa. Eastside Gallery's programme gives equal attention to supporting and exhibiting the work of aspiring and established local artists and direct community engagement with exhibitions through art classes and numerous other arts activities.
Boldt has overseen the gallery's busy programme since 2019; its main gallery, (one of the largest in Christchurch), its mini gallery, a starting space for emerging artists and its room for art classes. She maintains that the Centre is committed to artistic development through its exhibition programme and community development via participation in its three creative spaces. 'We offer low-cost art and craft classes and hire for arts activities such as dancing, life drawing, singing and workshops.'
Boldt's programme has made a difference to the scale of its delivery and its outcomes. 'We are aiming for it to be a really vibrant community hub. The exhibition programme is running well. At the moment we're focussing on delivering 12 new weekly daytime classes, but in the future we'd like to offer more events.'
'I spent the first year at Eastside Gallery observing how things were run and the activities we produced, but it was actually the first lockdown in 2020 when I had an opportunity to step back and see the wood for the trees. From there the current strategic direction, focussing on development, came about. Our commitment to artist development and community development encompasses everything we do now.'
'The Mini Gallery didn't exist when I started and we have turned each of our spaces into specific creative spaces. In the mornings we have different classes taking place, including dancing and art therapy, and after the galleries close at 5pm, evening activities take over the spaces. With the funding I secured last year we will be going from two classes a week to three a day. Artists Rebecca Harris and Marie le Lievre take the kids classes from 7 to 12 years and they use the exhibitions as a teaching tool, and for adult classes the teachers often take them into the galleries and examine how the works were made. Even singing and dancing classes use the exhibitions as inspiration.'
'Through the arts we are facilitating connection and community via creativity. The Ministry for Culture & Heritage's funding focuses on overcoming barriers to the arts. That is why the kids' classes are free for Inner-City East kids. There are also free art classes for all ages on Saturday afternoons.'
'We facilitate exhibitions that offer pathways for artists and specialise in showing the work of artists who are new to exhibiting. Fees are either free or very low and our commission is modest. We have two part-time staff, around ten tutors and assistants, and half a dozen gallery volunteers, all of whom are artists themselves. We have a lot of artists who start out with us and go on to exhibit elsewhere.'
Boldt is a strong believer in living life alongside creativity. 'My Doctorate at Canterbury University was, at its heart, about accessing wonder through the arts. I studiedin the Department of Theatre and Film Studies (the department is now gone) and I take a performance-studies approach to the installation of exhibitions. I definitely think that art can change your world. I love the quote, 'make something and you make yourself.'
DETAILS
Eastside Gallery
Open Tues-Sat. Classes start from 10am; galleries open 12-5pm.
IMAGES
The opening event of the group exhibition: The Longest Night June 2021
Marie le Lievre using the exhibition as a teaching tool as part of one of the kids' classes, and a photo of the last show, Good Trouble, our Multicultural exhibition for 2022.