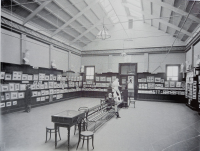 When CoCA Toi Moroki reopened post-quake in February 2016 with the group exhibition, Precarious Balance, its recently appointed director, Paula Orrell's ambitions for one of Aotearoa's oldest arts institutions acknowledged her commitment to a contemporary exhibition programme that was national and international, and that no longer acknowledged its local obligations to its former artists-membership base.
Precarious Balance did, however, manage to directly engage with the gallery's history: earthquake-recovered stone works from its first gallery, opening in 1890 on the corner of Durham and Armagh streets, were exhibited upstairs in the Mair Gallery as part of Precarious Balance, representing the gallery's history to a certain extent, and sitting in for the absent voices of its former artists, for better or otherwise.
CoCA's governing body, The Canterbury Society of Arts Charitable Trust, has a long history. It was established in 1990 and over the years has delivered on its purpose to grow people's love for art in a number of ways. Since 1968, its focus has been the gallery at 66 Gloucester St. The call for greater and direct engagement with the local arts community has resonated from CoCA's inaugural exhibition since its reopening. Currently it resonates for many in the idea that CoCA needs to be given back to its artists as a gallery for working [artist] members. How realistic is such a call? In principle, it is an idea that may seem inspired, but is it actually possible for CoCA in 2022 to represent the breadth and depth of the community of artists in Ōtautahi? There are literally thousands of artists, and it has been a task that the gallery has never been able to practically address and resolve for at least the last five decades. The visual arts in Ōtautahi are characterised by numerous infrastructures and arts communities. Many of the ambitions and proposals for CoCA have been either impractical or impossible. So where does CoCA and its future commitments reside?
CoCA Toi Moroki Board's decision to pause programming in the Mair and North galleries at the end of the current exhibition, represents an opportunity to answer and resolve that question. Board Chair Anna Ryan maintains that the decision reflects the need for the galley to create a sustainable plan for its future. 'We have committed to a consultation process so we can engage with key stakeholders and supporters, seek expertise and identify a preferred financially sustainable model for our future.
'CoCA is a charity that is here to contribute to a thriving art scene. Since reopening there has been an absence of connections. It is like the building has a moat around it and it is essential that we work out how to lower the drawbridge, fast – CoCA will not survive without the support of the local arts community.'
Ryan came onto CoCA's board of trustees in 2013 and notes that since CoCA has reopened following earthquake repairs in2016 it has accumulated losses of nearly $1 million, (most of which was incurred in the 2016 - 17 financial year). 'While CoCA has a 142 year history, its gallery model since reopening is that of a start-up business that requires nurturing and support. Some local artists feel reluctant about it because of perceived breaks. The membership model that operated from 1880 – 2010 was abandoned for legitimate reasons (including being financially unsustainable), but those from the 1990s and 2000s have very fond memories of it. We must find ways to foster equivalent connections. One trustee on our board recently said to me that since coming onto it they have received a lot of negative feedback about CoCA. Artists are reluctant to engage. Loud voices impact on the weight of responsibility for our board, but they have had very little positive feedback.'
Ryan also notes a lack of understanding at how scarcely resourced the gallery is. It is currently administered by one 0.8 FTE employee overseeing a network of volunteers, and there is not a part of its programme that is sustainable. 'In a wider context, the city still sustains a high level of burnout from the 2011 earthquakes and CoCA is not immune. The 10-strong volunteer board of Trustees is doing an exceptional job in unsettling circumstances but answers do not lie solely around the Board table.'
She also acknowledges that plans put in place for the gallery's likely revenue streams from 2016 to the present day have proven to be unsustainable for many reasons. 'While local businesses have been extremely generous with in-kind sponsorship, the corporate sponsorship revenue we have been able to secure has been a fraction of what the Board initially anticipated back in 2015. Despite having been operating now for 6 years, we also still have no security of funding from our major grant funders. I do not blame funders for being reluctant to commit to multi-year funding arrangements when the gallery is operating at a loss, but you can see that this compounds the problem and potentially becomes a self-fulfilling prophecy. There is also a significant cost associated with having to prepare major grant applications every year – we have recently had to engage an independent contractor solely for this purpose.'
Thanks in large part to CoCA's programme partnership with Objectspace, the relationship with Creative New Zealand (CNZ) is in good heart. Arguably, this has been CoCA's most professionally engaged and successfully delivered exhibition programme in the gallery's history. 'In 2021, we had two successful project grants of $75,000 each, which was the maximum we were eligible to receive. Those successful grants qualified us to apply for an annual grant of $150,000 this year, and we were successful in obtaining that funding. This was granted on the premise that we extend our relationship with Objectspace until the end of the year. Unfortunately, insufficient income from other sources meant that we could not proceed with those plans.'
'From 2020 we put in a plan for a modest surplus, but in the second half of last year I could see that it wasn't going to be successful and I was not willing to stand by and do nothing when I knew that we were going into another deficit. There needed to be a radical shift, and at the moment we still have time, but those options will narrow over the coming months. We did go to the Ministry of Arts, Culture and Heritage in 2021 with a proposal to continue our relationship with Objectspace and that was declined. Financially, it is a very challenging situation.'
'I became involved with CoCA because I wanted to make a contribution to Christchurch's recovery post-quake. I have always been a big supporter of the arts. If Christchurch has a chance of thriving as a modern city, then we need to create a city with a rich cultural texture, an ecosystem that means artists will want to come and live here. CoCA's building is a big part for me as well and we came so close to losing it in the earthquakes. The worse-case scenario is the gallery has to close. Yet, there is so much potential here if we can get a little support.'
'Multi-year funding from central government was meant to reopen in 2022. The CSA Board was working to position CoCA for Kahikatea funding, but Creative New Zealand has had a lot of demand on it due to Covid 19 and it announced at the end of last year that it will not be reopening Kahikatea funding for the foreseeable future, so that door is closed to us'
'The current situation is clearly unsustainable, but we have an opportunity, given that the organisation's balance street is strong, to reshape our future. This will require some bold thinking as we have some significant hurdles to overcome. The CSA was the first organisation to exhibit art in the city and it has exhibited works of art from generations of leading New Zealand artists for decades.'
'Our objective has always been to grow people's relationship with, and love for, art. Over the past142 years, we've done that in all sorts of ways. We have been a proud collector of art, a traditional art society, an art dealer and even hired works to businesses through a 'picture hire' scheme in the 1970s.'
'It is now time to write the next chapter in our history to ensure the legacy continues. This will be an important conversation with many opportunities to consider and we are confident of success. The Board expects to have identified a preferred plan for its future in June which will then be released to the community in July.'

DETAILS
To be part of this conversation, Anna Ryan and the trustees of the Canterbury Society of Arts (CSA) Charitable Trust (trading as CoCA) would like to invite you to participate in the consultation process that is underway now. 'You are an important voice as we consider how the CSA can best contribute to a thriving visual arts scene in Christchurch going forward, in a financially sustainable way. If you are willing to be part of the engagement process, can you please let me know by email (chair@coca.org.nz) or by texting me on 021 117 4940.'
CoCA Toi Moroki
66 Gloucester Street
Open: Tuesday – Friday, 10am – 5pm and Saturday 10am – 3pm
IMAGES
Installation View of Toro Whakaara at CoCA 2021, Wayne Youle, Edith Amituanai, ĀKAU 26 October 2021 – 12 Dec 2021, photograph: John Collie
CSA Gallery, art exhibition, Durham Street Gallery 1907, Alexander Turnbull Library, 1/1 – 25449 – G