Blog
ArtBeat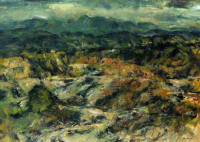 (From her autobiography: Landscape Experienced 1947 – 2013)
Yes I Think I'm a Painter. So said Cézanne in response to visitor Jules Borely who had come to Aix to see the master's paintings. His hesitant claim to 'perhaps' being a painter – possibly still a novice (although nearing the end of his career he certainly could not put himself there with Monet), is only justified because people are now buying his "impressions". A diary entry of mine reads: "I feel I have a very minor talent. More aspiration than ability. A sale is immensely important."
I never described myself as a painter let alone an artist and contradicted those who addressed me as such. Was this because one did not meet the supposed criteria that defined an artist? Fill time commitment, recognition, sales success and especially the conviction of vocation – bordering on ordination.
"Most artists today are not famous – in fact most people who make art don't even call themselves artists" writes Ted Orland in The view from the studio door. Why such introspection and concern with definition? I was to find – as I engaged in art and all the related issues of working in that field; learning, developing, exhibiting, selling (or not selling) – that it was not for the faint hearted and had to be sustained by beliefs - and more.
The world of artists these days is a crowded and competitive world. "Art is everywhere in New Zealand" said a recent visitor, "from a hobbyist to those making a career out of it". Frank Auerbach puts it even more strongly with his "painters spreading like a virus". Overtime one meets Sunday painters, art class junkies, a hierarchy of artists who are 'in' or 'out,' amateurs and professionals. The nuts and bolts of artists' status was brought home recently when I read in the newspaper that the current New Zealand exhibitor at the Venice Biennale is ranked 363 in the world. This is the highest score by a New Zealander and is regarded as very good. Artists both living and dead can be ranked by measuring media exposures and exhibitions.
To again quote Cézanne "art is a funny thing".
DETAILS
Catherine Brough, Landscape Experienced 1947 – 2013, Benefitz, published in 2019, courtesy of Donald Brough. Available from Scorpio Books and https://www.trademe.co.nz
IMAGE
Catherine Brough, plein-air painter (1935 – 2022)
Catherine Brough,Blackball Terrace 1, 1999, oil on paper, 550 x 750mm