Blog
ArtBeat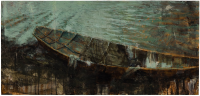 A freelance designer and illustrator Casey Bailey is also acknowledged as a painter of figures and landscapes that seem both contemporary and connected to a history of Western Art, (Francisco Goya, 1746–1828, is a favourite artists of Bailey's), from the 17th and 18th century, given new life and relevance.
Bailey maintains that he started as a painter 18 months ago, and prior to this he has been a freelance illustrator with clients from around the world, particularly in North America, his work involving creating images and panels for a comic book writer's publication, appearing in both print and online. Bailey highlights the competitive nature of the industry in the United States, with writers selling their work at comic book conventions and, if they are really lucky, its promotion through an exclusive catalogue that serves as the guide for all comic book stores in the US. Bailey comments: 'A few do it for the reasons that I do painting.'
'Painting was something I wanted to do for myself. It was a prescribed task doing comic books with someone else's story and not mine. It was creative but also restrictive at the same time. With painting it wasn't difficult to work with tonality, I was already working in that way with the comics, but there are other aspects and skills to it; composition, brushstrokes, materials and colour and that all adds up, and that is what makes painting challenging.'
'When I am painting I like to see the layers of paint, the brush strokes and the subject and I work on reworking each painting in the process of making them. The subjects that I paint don't always seem to be quite what I want them to look like, and that could be either the subject of the work or the colour range. There is the beginning of the painting and the finish and it is hard to decide when it is finished - and it is too easy to over-paint a work. As soon as I start it I try not to get too fussy with it, I want it to look like a painting, not a photograph.'
Bailey is aware that he has a unique style and that his paintings have a sense that 'Casey painted it' and while he is a fan of Goya's work, he maintains that his wider influences are film directors, particularly David Lynch and influential Japanese director, Akira Kurosawa (1910 – 1998), as well as Australian expressionist painter and illustrator, Ashley Wood. The Australian artist's figures and landscapes are painterly illustrative images of imagined worlds and people, and Bailey seems conscious of the value and merit of such diverse influences.
DETAILS
Casey Bailey, Pilgrimage
Chambers Gallery, 80 Durham Street, Sydenham
13 – 30 July
IMAGES
Casey Bailey, Young Man with Ruffled Collar, 2022, oil on board
Casey Bailey,Man with Long Hair, 2022, oil on board