Blog
ArtBeat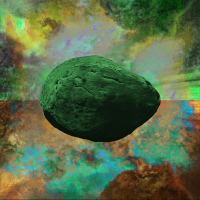 Who is Auspicious Victory and what will visitors to Auspicious Victory's exhibition, Hostile Body encounter when it opens?
Auspicious Victory claims to come from Amarapura "The house of the immortals" and that we all live in a simulation. This is not your average artist, part designer, marketer, performance artist, techno profit, visual artist, and activist all in one. Yet, this this will all change, as will Auspicious Victory's true identity. Auspicious Victory is a digital artist that will eventually be "guided" by a collective of individuals who wish to support their cause, this format is a DAO, a Decentralised Autonomous Organisation, breaking new ground, with the crypto world coming together with the art world to create the first decentralised artist.
In this incarnation, Auspicious Victory claims that they have been creating digital art since the early 1980's when home PCs first became a household item. Since then they have lived and worked across the world, finally deciding that New Zealand was the best place to see in the apocalypse.
Auspicious Victory is an entity and idea that aims to serve two agendas, advocating for community organisations that provide mental health support to men, (5% of Auspicious Victory's profits are allocated to emotional, psychological and social well-being), and empowering the rights of artists. In principle it shares in the spirit and agendas of XCHC and other art groups locally and globally.
In principle, Auspicious Victory is sharing this notion of a "community vibe". 'Auspicious Victory can be anyone or no-one. Aside from their digital mask they remain anonymous, using this vacuum of identifiable features they create the space to ask profound and profane questions, speaking truth to power, and embracing absurdity to challenge mediocrity. This project will create an infrastructure that can continue to be used in the future by succeeding digital artists who "inhabit" Auspicious Victory. It is a digital residency characterise by the habitation of the persona of Auspicious Victory.
Auspicious Victory is the leader of this project and highlights that the project will benefit artists, addressing issues around income and revenue. 'Auspicious Victory will have marketing and infrastructure through the use of crypto currencies and tokens and such, it creates its own digital artificial intelligence and generative art, Liquid art and all the digital tools.'
Auspicious Victory will have their first public encounter at the Exchange early in September. Hostile Body brings together various multimedia; sound, projections and installations, described by them as a multi-sensory experience, intended to be all-encompassing, directing visitors to 'a wider contemplation of life and its outcomes through the experience of a virtual artist.'
'Drawing on a broad range of digital art and collaboration with different types of art, (music, live performances, large screens and digital art) a lot of this art comes from very private pain and art is not afraid to talk about that. It asks people to think about illness and mental illness. With digital art you can represent that more tangibly, the art being confronting and colourful.'
DETAILS
Auspicious Victory, Hostile Body
Exchange Christchurch (XCHC)
376 Wilsons Road, Waltham
Opens 9 September, from 10 – 30 September
IMAGES
Auspicious Victory, Deep State II, 2022, digital image
Auspicious Victory, Deep State V, 2022, digital image