Blog
ArtBeat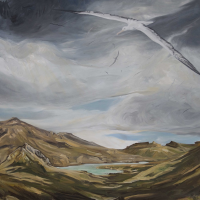 Working from her studio in Banks Peninsula, Anna Dalzell's commitment to the land and environment, and our many relationships with it, (historical, present and future), are central to the subjects of her practice. Working in a range of media as a printmaker, jeweler, painter and sculptor, Dalzell's art reaches audiences across disciplines, and this amalgam of materials and themes has contributed to her profile, exhibiting and participating in local, national and international exhibitions for more than two decades.
Dalzell's engagement with the land, its history and the complex relationships it represents are revealed on various levels through her work, from the fundamentals of the land as site, environment, a possession, and resource and responsibility for all cultures and communities. Her concerns are founded upon the "big picture" and the necessity of taking responsibility, her diverse means of expression, demarcating due attention to questions and issues that cannot be ignored.
Her current exhibition, Outer Islands Inner Worlds, documents her response following her recent artist's residency in Sub-Antarctic. Made up of a series of island bordering Antarctica, the most familiar of its land masses is Campbell Island/ Motu Ihupuku, surrounded by a series of smaller island groupings, Jacquemart Island, being the southernmost extremity of New Zealand, possessing a mountainous terrain, uninviting in its fiord and harbour, opening out to the sea on its east coast.
Dalzell's perspective on the subjects for Outer Islands Inner Worlds is about both the expansive 'grand' view of the landscape and its accompanying intimate details. In her painting, Outer Worlds Inner Worlds 3, the panoramic and far-distance view of the land is made personal and tangible by the skyward seagulls surveying their world below, implicitly sharing the experience with all of us, and their relationship to their home and surroundings
Yet, where Outer Worlds Inner Worlds 3, extends an invitation for such an encounter, at the same time, it insists on our consideration of the isolated Sub-Antarctic environment and the contrasting relationships and challenges that humanity represents through the industrial/digital world that it populates. Dalzell observes and considers: 'How do we go into the future? Are we at a real turning point, we see extreme behaviors emerge, exhibited through hatred and cruelty. Humanity is facing rapid challenges. Rising populations, climate change, politics, statelessness and war, all impact us to varying degrees. How do we move forward to peace, acceptance, commonality, meeting basic needs, human rights, survival. Finding a common thread, what is it we all need? Hope, peace, freedom.'
DETAILS
Anna Dalzell, Outer Islands Inner Worlds
NZArtbroker, 2 Kingsley Street, Sydenham
3 – 24 September

IMAGES
Anna Dalzell, Outer Worlds Inner Worlds 3, 2022, oil on board