Article
ArtBeat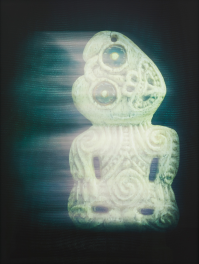 The subjects of the photographs in Tiki: Orphans of Māoriland at the Christchurch Art Gallery Te Puna o Waiwhetū of "not quite right" heitiki by Fiona Pardington (Kāi Tahu, Kāti Mamoe, Ngāti Kahungunu, Clan Cameron) are from the Wellcome Collection in London, founded by Sir Henry Solomon Wellcome (1853–1936). Independent scholar and writer, Andrew Paul Wood discusses his and Pardington's interest in the collection with Warren Feeney.
WF: When did you first discover Fiona Pardington's photographs and begin writing about them?
APW: I first became aware of Fiona's work in the late 1990s early 2000s. I was in Dunedin then and she held the Frances Hodgkins residency from 1996 to 1997. I didn't meet her. That happened only five or six years ago. It turns out that we have similar interests in the fringes of the spooky and that we share a third generation great-grandfather. It was Cameron, a very famous Scottish drover who migrated to Australia in the 19th century. I have done catalogues essays and wall texts for her, through the Jonathan Smart Gallery and I interviewed her for the book that went with the City Gallery's touring exhibition, A Beautiful Hesitation (2016).
WF: How did you discover the Wellcome Collection?
APW: I am a connoisseur of the weird and the wonderful and the Wellcome Collection has always been on the fringe of my awareness. Originally, I suggested that Fiona look at it because she has an interest in medical history and the occult and the Wellcome Collection has some very interesting holdings. She vowed that it was looking online through their catalogue that she found the heitiki pieces. They are just weird. They were all bought in the early part of the early 20th century, mostly all from British auction houses.
WF: What is the context for them being part of the collection?
APW: You could make educated guesses on many of the works because there are similarities with other things that pop up and they are from a range of sources. They may have been made by Whalers. That is one possibility, among them would have been Māori whalers. People forget that in the 19th century Māori travelled the world, regularly turning up in Europe and North America. So they could very well have been created by someone who had whakapapa. There is actually an entire area of study devoted to the British sources of Māori artefacts. Some of them were quite consciously forgeries, made to a market, but Māori in the colonial period were phenomenally entrepreneurial. Roger Blackley's Galleries of Maoriland: Artists, collectors, and the Māori world, 1880-1910 from Auckland University Press is really good - very informed.
And your thoughts on Tiki: Orphans of Māorliand? The macabre is something that goes through all of Fiona's work but it is a subjective thing. It doesn't need to be sinister and that is what Fiona does, she invests this kind of aura or a presence back into these things.
DETAILS
Fiona Pardington, Tiki: Orphans of Māoriland
Christchurch Art Gallery Te Puna o Waiwhetū
Corner Montreal Street and Worcester Boulevard
The Gallery is currently closed until further public notification. Fiona Pardington's Tiki: Orphans of Māoriland is scheduled to run until 22 June

IMAGE
Fiona Pardington A220848 Pigment inks on Hahnemühle Photo Rag. Courtesy the artist and Starkwhite. With thanks to Wellcome Collection | Science Museum Group