News
ArtBeat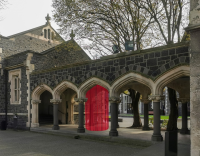 SCAPE Public Art Season 2022 opens Sweat Equity, with managing curator, Jamie Hanton, presenting his third public art programme over three years, his final incarnation of the over-arching theme Fiction, (2000 – 2022), his attention centred upon Ōtautahi Christchurch's cityscape and its 'elements of mystery and moments of revelation.'
The titles of Hanton's previous themes for SCAPE Public Art's seasons; Secrets and Lines, 2020 and Shadows Cast in 2022 and the agendas and issues they embodied, are further cultivated in Sweat Equity. Yet, Hanton also directs his attention to a more specific critique of 'neoliberal fantasy, based on the premise that if you work hard you will be a success', cultivated through an entrepreneurial culture centred upon consumerism and commerce.
The participating artists in 2022 are; New Zealand/ Netherland interdisciplinary artist, Wendelien Bakker; Lyttelton-based multi-media artist, Dr Jo Burzynska; three participating Korean artists, Young Hae Chang Heavy Industries ( a collective of Young-Hae Chang and Marc Voge) and Auckland-based 3D animation artist Hye Rim Lee; filmmaker, photographer and sculptor, Eddie Clemens; conceptual artist and sculptor, Scott Flanagan, and Ngāi Tahu carver of Maniapoto and Fijian/Indian descent, Jon Jeet, and the celebrated collective of Pacific and Māori artists, Pacific Sisters.
Moreover, senior lecturer in sculpture at the University School of Fine Arts and a participating artists for SCAPE's Public Art Season 2021, Louise Palmer's ALSO HER DAUGHTER, remains a site-specific public artwork in November 2022, described by Scape's executive Director, Deborah McCormick, as an installation that worked so well for the precious season, a longer display period was negotiated until the end of the current SCAPE Season in January 2023.
As a prominent public work of art, Palmer's ALSO HER DAUGHTER is also worth noting in relation to SCAPE's enduring relationship with art and industry, which is now in its 24rd year. Sweat Equity reaffirms the unique nature of its principles, McCormick mentioning SCAPE's encouraging voice to artists, to extend aspects of their arts practice, securing funding for work a of contemporary art in public spaces through a unique partnering model with industry.
Hanton groups the artists for the 2022 Season thematically; Young-Hae Chang heavy Industries, Dr. Jo Burzynska and Pacific Sisters, reconsidering 'the relationship between bodily agency and autonomy in late-capitalist society.' Eddie Clemens, Jon Jeet and Wendelien Bakker are described as identify and reflecting upon the 'ways technology affects labour and the transmission of traditional methods of making,' and Hye Rim Lee and Scott Flanagan generate 'new works that seek to shift perceptions through illusion, virtuality and new materiality.'
Bakker's, A low brick wall, is exactly that but also more. An assumingly modest and low-to-the-ground borderline, yet also a stand-in object soliciting memories of a pre-quake space in the central city on the banks of the Ōtautahi Christchurch Avon River. Simultaneously, in a before and after moment, Hanton comments that A low brick wall is an invitation for visitors to 'trace the line of the wall with their eyes or feet,' encouraging a memory to participate in the here and now of a place of belonging.
Dr. Jo Burzynska's Garden of Sensory Exchange is a sound installation in the Botanic Garden, intended to heighten and extend perceptions of the complex and numerous relationships fundamental to the natural world. Garden of Sensory Exchange is about capturing sensory communication sonic messages shared by organisms in the soil. McCormick details the project as encompassing 'messages, sent by plants played back within the ear.'
She further notes that SCAPE's Season 2022 sees a shift in the timeframe for its programme Sweat Equity, opens 5 November and closes at the end of January 2023. 'For burzznska's work we are doing tours and working with students and the wider public and with SCAPE's season in 2022, now commencing in the first week of November, (rather than October), and closing at the end of January 2023. SCAPE is also working with schools leading up to Christmas and then through January, attention will be through self-guiding tours.'
Now in his 3rd year as the curator of SCAPE Public Art's programme, Jamie Hanton's Sweat Equity is the most assured and many-sided incarnation of his over-arching theme, Fiction. There is a diversity of responses, methodologies and materials, and as such, confirms the value of SCAPE's three-year tenure for its programme and its chosen curator, collectively representing a diverse and unanticipated agenda.
Auckland-based Hye Rim Lee's digital animation, White Rose is a five minute 3D animation into an imaginary world and the artist's digital personification, Toki, encountering and seeking to escape the realities of 'death and lost love,' in a multifaceted environment, confronting our desires and pains and grief and 'new beginnings.' White Rose is being projected on the Convention Centre Te Pae, facing towards Colombo Street and Gloucester Street.
Describing his practice as taking place in the narrow spaces between 'film, performance and sculpture', Eddie Clemens', Cognitive Reorientation, 2022, documents full and frank disclosure on the fictitious nature of popular culture through a television police drama, the artist recreating a crime scene from Danish television's Forbrydelsen [The Killing]. Clemens' Cognitive Reorientation is a work like no other, deflating the mythologies of popular culture, Clemen's suspended vehicle serving as both fiction and surprising reality. Cognitive Reorientation is on Armagh Street close to Colombo Street.
Dunedin-based artist Scott Flanagan, is a former resident of Ōtautahi Christchurch and in his return to the city with his new work for SCAPE's 2022 Season, Ach Bogl, a site-specific work in The Arts Centre Te Matatiki Toi Ora, assembled from polyurethane vinyl as an installation and immersive encounter. Encouraging viewer participation with the intention of altering our perceptions of colour and tone, Hanton comments that Scott's title , Ach Bogl is an 'Irish-Gaelic translation of "But soft!".
Ōtautahi Christchurch-based pounamu carver, Jon Jeet, (Ngāti Maniapoto and Fijian Indian)is represented in SCAPE's 2022 Season by a new work, He Toki Maltai, a 'monumental corten steel toki form', that, as a practical tool for the artists, is used for gardening, rakau whakairo [wood carving] and bodily adornment. Jeet's attention is also centred upon the significance of an item that is often taken for granted. He Toki Maltal is located in front of entrance to The Arts Centre on the corner of Worcester Boulevard and Rolleston Avenue opposite the Canterbury Museum.
Now in its twentieth year, Korean-based, Young-Hae Chang Heavy Industries deliver their trade-mark messages in black text on white, in two works that consider and direct attention to the genuine possibilities of personal realisation in a world of 'late stage capitalism'. Described as 'jazz meets billboard messages', Hanton notes that YOUNG-HAE CHANG HEAVY INDUSTRIES' two works, THE STRUGGLE CONTINUES and CHANGE YOUR CAREER! offer an 'acerbic alternative' to the imperative language of advertising.
Established in Auckland in 1992, the Pacific Sisters pioneered contemporary art, design and fashion in Aotearoa, directly engaging with a history of traditional Pacific craft. For SCAPE's Season 2022, they are featuring eight light-box photographs of each of the Pacific Sisters; Rosanna Raymond, Ema Lyon, Ani O'Neill, Feeonaa Clifton [nee Wall], Salvador Brown, Ruth Woodbury, Nephi Tupaea and Suzanne Tamak. Photographed by interdisciplinary artist Pati Tyrell, Te Pu o Te Wheke, is a series of photographic portraits, activated with an augmented reality app along Oxford Terrace and Gloucester Street intersection close to Te Pae.
Executive Director of SCAPE, Deborah McCormick also comments that SCAPE Public Art Season 2022 is not only a festival of contemporary public art it is also an experience as a unique central city walk to see the work of all participating artists: 'Begins with Eddie Clemens'Cognitive Reorientation installation in Armagh Street, and to Te Pae and Hye Rim Lee's White Rose on a large outdoor screen, then the Pacific Sisters' light boxes, Te Pu o Te Wheke, on Oxford Terrace, bordering the Avon, and then to Armagh/Hereford Street to Wendelien Bakker's A Low Brick Wall and the Arts Centre's grouping of YOUNG-HAE CHANG HEAVY INDUSTRIES, THE STRUGGLE CONTINUES, Hye Rim Lee, Scott Flanagan's Ach Bogl and Jon Jeet's He Toki Maitai, adjacent to Canterbury Museum and into the Botanic Gardens for Dr Jo Burzynska's Exchange and Louise Palmer's ALSO HER DAUGHTER.
DETAILS
SCAPE Public Art Season 2022
Sweat Equity. Curated by Jamie Hanton. For full details see: https://www.scapepublicart.org.nz
IMAGE
Hye Rim Lee, Yellow Diamond White Rose Series, 2022, digital animation, Te Pae, Arts Centre and Christchurch Casino.
Scott Flanagan, Ach Bogl, 2022, image courtesy of the artist