Blog
ArtBeat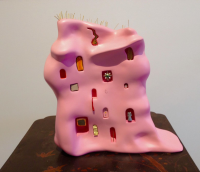 When I arrive at the City Art Depot I am greeted enthusiastically by Henry Turner who is wearing a pendulous Steven Park sun hat. He is also adorned in one of the show's many works: a blackened long sleeved shirt featuring a meticulously stitched heart and lungs, both delicious and repulsive in their abstract detail, protruding bib-like from his torso.
This exhaustive show is named after chansonnier Henri Fursy's hiss-drenched Chanson De L'APGA of 1908, and while its namesake is a forgettable and anaemic genre entry, Turner's exhibition is anything but. The show deceptively presents itself as a museum retrospective masquerading as an art exhibition, something author Jorge Luis Borges would have approved of due to the possibilities the gesture's subterfuge affords. In fact, Borges' influence indubitably looms over the show both for the hermetic sense of literary mystery the work conveys and more literally via the curious reference to his story The Library of Babel in the subseries title (O Time Thy Pyramids) for the bulk of the sculptural objects on display.
One of these figures is shrouded in a honeycomb silk shroud and its hexagonally prismatic veil conveys a tactile opacity reminiscent of the more seductive materials used in Matthew Barney's series The Cremaster Cycle. Borges is also a major inspiration for the empty-paged hard covered book that sits alone next to the tantalising "please do not touch" sign (which implores spectators to do just the opposite). The work is titled A Million Ends And One and the book's spine reads 'A First Encyclopedia of 'Tlӧn Vol. XI, Hlaer To Jangr', directly referencing Borges' short ficcione Tlӧn, Uqbar, Orbis Tertius.
Turner's practice is unquestionably one requiring much technical agility and patience and this is nowhere more apparent than in the corporeal pink goop sculpture Turner has called The Thing (the title of John Carpenter's paranoid 1982 body horror film), which features nook-like caves populated by Lilliputian humans, worms and plantlife. This seemingly tranquil melted shape gives the impression that, in reality, it could in fact be a humongous entity, potentially twitching at any second. The variety of work is unequivocal, for example there is a page from a picture lottery book featuring scrupulous representations of various personal objects dear to the artist; we have his customary luscious paintings, embellished with convulsive, aerial Masolino forms, and we're even treated to a glowing, labyrinthine shrine which replicates one of NASA's space launch systems.
DETAILS
Henry Turner, A.P.G.A
City Art Depot, 96 Disraeli Street
26 April – 16 May
IMAGE
Henry Turner,The Thing,2022, Polychrome wood, gouache, gesso, painted bronze, gold, silk, pearl, styrene, wire, water transfer, 395X380mm