Article
ArtBeat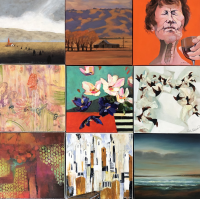 One of the earliest and strongest memories I have from 2011 was in the early stages of recovery and the visual arts in Ōtautahi and the re-opening of Art Box Gallery in Loftus Street, Papanui by its studio artist and gallery manager Beverley Frost. Post-quake city, Beverley and her co-owner husband Malcolm Frost made a commitment to provide space for quake-affected artists to exhibit, making additional use of the gallery in response to the catalyst of circumstances of 2011.
Art Box had initially opened in 2004 as Frost's studios but February 2011 made it something else, a response to the wide concern about the absence of exhibition spaces throughout the city. It opened as an art gallery for group and solo exhibitions, initially representing the work of ten local artists in September 2011. Rapidly the list of artists rose and as their numbers grew, so did the visitors.
Frost looks back and commemorates the flourishing state of reinvention and renewal of her studio in September 2021 with a group exhibition that celebrates its history. TEN BY TENS - A DECADE AT ART BOX, is a group show that features works by Philip Beadle, Stephanie Crisp, Rachel Hirabayashi, Ruth Killoran, Galina Kim, Christine King, Melanie Hammett and many more.
Frost maintains that Art Box was initially a 'knee jerk' reaction in order to support local artists through pop-up exhibitions and 'making good out of the bad'. She realised she could utilise her largely undamaged Papanui studio. She also recalls that Art Box opened accompanied by a news story from Stuff in The Press and Mayor, Sir Bob and Lady Jo Parker opened the first exhibition in September 2011.
The gallery has since been used for shows, art collecting groups, concerts, U3A groups and similar interest communities, as well as being open to the public during the week. Frost works with the model of an art gallery with a wide variety of paintings from abstract to realist with a large range of narratives and thematic concerns, and Art Box is still the working space for artist Beverley Frost.
Now in 2021 Art Box has over 40 artists mainly from the South Island and over 3,000 clients from around the world. Frost's exhibition programme and gallery also have an extended relationship with many local businesses, including picture framers, art shops, interior designers and hanging services.
DETAILS
TEN BY TENS - A DECADE AT ART BOX opens Sunday 12th September from 2pm to 5pm. In keeping with the nature of the event participating artists have completed two to four original works of art for the show at 'ten by ten inches' (25cms). The shared dimensions of the works establish the exhibition's theme. Art Box will be supplying a catalogue which will be available, listing the 60 plus new works by a variety of the gallery's regular artists. There will be no pre sales, works will be available more widely online immediately after the show closes and may be purchased by messenger or emails. All works will remain on site as part of the show until 2pm Saturday 19 September as part of the celebrations.
Art Box
TEN BY TENS - A DECADE AT ART BOX
1/16 Loftus Street, Papanui, Christchurch 8053
Tuesday to Friday 11am-4pm
Saturday 11am - 2pm
www.artboxgallery.info Facebook: Art Box Gallery@Loftus Instagram
IMAGE
A grouping of nine works of art all measuring, 25 x 25cm from the group exhibition TEN BY TENS - A DECADE AT ART BOX