Article
ArtBeat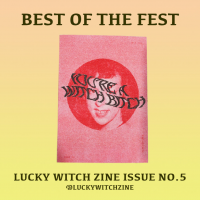 Alice Bush, Lucky Witch, 2019
(Title page image is: Tori Batt, Monthly Stocktake, volume Three, December 2018)
It may have taken 40 years but zines (fanzines) are a proliferate mix of numerous visual agendas, as open-ended as they are instructive and comprehensive as they are brief in their narratives and imagery.
A contemporary art form that emerged in Aotearoa in the 1970s with the publication of offset printed alternative papers such as The Ponsonby Rag, and Strips - a comic magazine that featured the work of local artists like Barry Linton and Colin Wilson. Their current incarnations are certainly more fulsome – fan-books, short stories and graphic novels, making it difficult to narrow their history to a linear narrative, but it is worth noting that Strips was self-published and its contributing artists had no public expectations to live up to.
In 2020, the proliferation of zines makes it impossible to make a head-count of the number of self-publishing artists. Yet, Nick White, one of the owners of Ride On Super Sound, retails not only records and books, but also zines and small-press publications by New Zealand and international artists, and he brings an encyclopaedic knowledge to the task.
"I love these things. They really originated as a way of getting your point across without interacting with the mainstream print media. They're real messages in a bottle - for very little money you can sort a cardboard cover, photocopy the insides, and make a really beautiful, personal object."
Auckland-based Ross Murray is high on his list of favourites. 'Murray's Rufus Marigold was my New Zealand comic book of last year. It's this heartfelt story about a chimp with an office job and a social anxiety disorder. Murray's timing is impeccable - he uses the space between panels to communicate Rufus's distress so well, and that's one of my favourite things about comics. They can illustrate something like that in a way that no other medium can.'
So what are some of White's favourite zines? 'I love Ross Murray's illustrated A History of the Rugby World Cup. It doesn't really have anything to do with rugby - it's more of a bunch of personal reminiscences relating to the World Cup. It's an absolute no-brainer for a shop like ours .'
'Cave Man Noise is published by the guy who runs Hairy Palm Tapes, a DIY, cassette-only label from Auckland. It's a classic photocopied and pasted punk rag - interviews with strange, angry bands, and full of harsh black and white illustrations and stream-of-consciousness rants.'
'Nineteen Sweet Zines is by Spencer Hall, who's a prolific artist and musician - it's a catalogue of zines that he'd like to make if he had the time. It's full of cute little synopses of each potential publication.'
'Louis Graham's Strawberry Stories is also a favourite. It was actually written by a procedurally generated piece of computer code. All of the dialogue came from a random grammatical sentence generator - it's an oddly surrealistic, flowery, poetic little zine.'
'Lucky Witch by Alice Bush was chosen at the Auckland Zine Fest 2019 as the "Best of the Fest." It's a beautifully designed, very witchy, feminist newsprint thing, printed on the Risograph at M/K Press.'
'Tori Batt's Monthly Stocktake. Tori lives in Akaroa, and she's a tremendous illustrator. She creates these wonderful pictures in a variety of mediums, and then needs somewhere to put them all - this is sort of an 'art dump.' She's astonishingly good.'
Bryce Galloway's Incredibly Hot Sex With Hideous People is probably the longest-running New Zealand zine. I've never met him, but I feel like I know him, because he's made more than seventy issues of this illustrated, deeply personal diary about music and parenthood and pretty much everything except hot sex or hideous people. It's a great title, though.
'Some of my favourites happen to come from Dunedin people, but I think that's because of the proximity to all that learning - they worship books down there. Plus it's cold, and you can sit in front of your one-bar heater and work away with a glue-stick and a stapler without anybody bothering you.'
DETAILS
Ride On Super Sound is currently closed until further notice. It is located upstairs at Smash Palace 172 High Street