Article
ArtBeat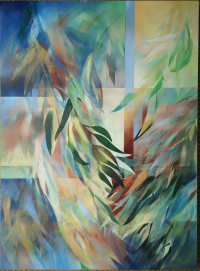 Nature's Palette is Zoe Wiseman's third solo exhibition at The Chamber Gallery in Rangiora. Graduating in 2005, she has established a profile as an artist and private tutor within the Canterbury region. Painting for solo and group exhibitions, as well as creating commissioned pieces, she has developed and tutored art courses for adults and children at various schools and community centres in Canterbury, including children's workshops for events that include KidsFest, as well as also being a member of the Waimakariri Community Arts Council.
Wiseman's paintings explore the natural world, playing with the effect of seasonal light on colour, establishing an historical link with prominent women artists in Aotearoa from the 1950s, particularly Louise Henderson (1902 – 1994), a contemporary artist who prioritised abstract figurative images through her work in response to the natural world. Wiseman's subjects are equally multi-faceted in her consideration of subjects, as though looking at nature through a prism, her response to organic forms, also possessing essential element of design, geometric shapes and forms.
Wiseman's paintings are also as concerned with the formal elements of her paintings; for example, the reflection of leaves seen through windows, creating a dynamic interplay of foreground and background. Wiseman's mixed-media paintings are as luminous as they are evocative, revealing interior spatial relationships and, in a wider context a reconsideration and direct engagement with the natural world.
DETAILS
Zoe Wiseman, Nature's Palette
Rangiora Chamber Gallery
141 Percival Street, Rangiora
12 December – 25 January 2023
IMAGES
Zoe Wiseman, Reflections, 2022, mixed media on canvas
ZoeWiseman, Through the Windows, Rangiora, 2022, mixed media on canvas