Blog
ArtBeat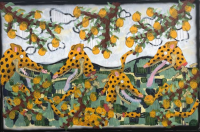 Southampton-born Miles Dover immigrated to Aotearoa in 2002 and is a Christchurch-based artist with a background in performance and the martial arts. As a painter, he works with a range of media; acrylic paint, spray paint, charcoal, markers, pastel/crayons, working with brushes, stencils, palette knives and plastic scrapers. He recently spoke with Warren Feeney about the subjects of his paintings, their humour and darkness, his favourite artists and his recovery in progress from a recent accident.
Warren Feeney: How long have you been painting and exhibiting?
Miles Dover: I have been painting ever since I can remember. However, since 2019 I started to take things more seriously, working with larger canvases and stepping up with my practice which was previously scrapbook sketches and emotive doodling. I have works in Windsor Gallery and a wall of works in C1 Espresso coffee shop in the central city, as well as work inside Working Style, (the suit fitting rooms) also in the CBD.
WF: The paintings I have seen to date have animals, seemingly substituting for people and there is an element of humour, but also a darkness and anxiety - German Expressionism comes to mind. Would that be a fair observation of the subjects of your work?
MD: Some of my works are strictly people or animals and sometimes they are in related scenarios and context which may seem significant, and dark or humorous. In a recent work, Leonard, a large leopard is in the process of being domesticated and has been fed lemons instead of flesh. This forces him to eat his owner's leg - then he is satisfied. This could hint at the old saying "don't bite the hand that feeds you," or it may indicate a sense of cunning, the ability to lay dormant and unseen before seizing the moment.
WF: Are there artists that you look to or see as an influence on your practice?
MD: Instagram provides me with hundreds of thousands of creative minds, all at my fingertips. I find some of my biggest inspiration often comes from a random painting by "Joe Bloggs." It will be a shade of colour, a shape of a head, a pattern, or even the whole colour palette itself. I love the bold outlines and solid colour used by Emma Hercus, the crazed atmosphere of the works of Ewan McDougall, and Iryna Maksymova is another artist I've been following for some time for her colourful mixed-media depictions of ladies and animals. One of my favourite artists is Matt Sesow from Washington. He lost his arm in a horrific accident and used painting as a form of therapy. My favourite painting of his is Runway Bull, With Ball. It is a painting of him both with his friends after his accident - and a bull and ball. The video showing his process with this work got me into painting abstract /contemporary backgrounds.
WF: Can you detail the process of painting. Does it evolve as you work on it or is there a clarity to your intentions and the outcome from beginning to end? Your use of mixed-media? Do you apply found-objects to your work in association with the paint?
MD: I rarely stick to a plan. The idea takes on a mind of its own and I end up exploring alternate possibilities and it rarely looks the same. For some paintings I have a rough idea of what I am looking for but when things present themselves, e.g a random shape appears in the palette knife strokes, I'll get transfixed on that and try to incorporate it somehow even if it means I have to abandon previous plans to make it happen. I am trying to play more with collage and have started an A5 pile of paper in which I do something random such as a solid colour or a pattern, and then flip it over and do the other side. Any mistake is welcome.
I paint for myself and I love the comfort it offers and the tangible result of my work. My walls are filled with my paintings and they bring me joy every day. In a recent accident, a chisel went into my hand and severed four thumb muscles, my wrist tendon, my finger tendons - and my median-nerve was completely severed too. I have been doing constant physiotherapy in order to salvage some of the strength and flexibility of the tendons. Most of my days revolve around constant physiotherapy. I have to constantly stretch, be mindful of everything I touch, be wary of overextending my thumb and causing more damage, and the complicated nature of nerve injuries means I get flare-ups in my hand randomly and some nights I am unable to sleep because of how uncomfortable my hand feels. It's been a rough journey recently, but painting always offers solace and a place to throw all my creativity, frustration, and anger.
DETAILS
Miles Dover, New Paintings
Windsor Gallery, 386 St Asaph Street, Christchurch,
IMAGES
Miles Dover, Leopard Leap Licking Lemons, 2022, mixed media on stretched canvas