Louise Palmer- Naming as a Way of Claiming Histories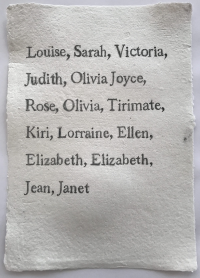 Senior lecturer in sculpture at the University Of Canterbury School Of Fine Arts, Louise Palmer has recently completed a new series of drawings and cast objects as the recipient of the 2020 Grace Butler Memorial Foundation Award at Ara. Palmer's plans for the Award were outlined and framed within the context of her practice, drawing from both the personal and the shifting, built environment of Ōtautahi.
It was a residency informed by its own unanticipated surprises and challenges. As an artist whose practice maintains an essential commitment to public spaces, delays in 2020/2021 in current circumstances were inevitable. Moreover, in 2021 Palmer was also a commissioned artist for SCAPE Public Arts' programme which went ahead with a few projects, although Palmer's was delayed. Palmer commented at that time that it was definitely a challenge working in public spaces. It also meant that she was required to work simultaneously on the Grace Butler Award and the SCAPE project. For SCAPE this involved the completion of a series of plaques, ALSO HER DAUGHTER , their attention on suffragette campaigner Kate Shepherd (1847 – 1934).
Palmer recalls: 'For the Grace Butler Award I worked on two intersecting bodies of work. Returning to the act of drawing, a series of works on paper developed from the plaques in ALSO HER DAUGHTER. As the work for SCAPE repurposed objects, process and materiality became really important to developing new work in the studio. I worked on a series of cast plaster objects, a process that I am really familiar with, but was interested in doing something different with that material.'
For Palmer, the Grace Butler Memorial Foundation Award directed her attention to the site of the body as material for new work. 'I went back to the Kate Shepherd SCAPE works; the bollards, the plaques and the essay, making connections to the site and history and my relationship to feminism, talking to unspoken histories. When Kate Shepherd went back to London it was rumoured she had a hysterectomy, and I became interested in different experiences of the female body, drawing on personal experience as well as those references to feminism, which has become more explicit in my work.'
'The works from the Grace Butler residency draw upon the power of naming as a way of claiming space and these drawings and objects as a process of experimenting and of working with form and material. The drawings are resolved as a list of names relating to my personal and art whakapapa and the process of naming as a way of claiming these histories.'
IMAGES
Louise Palmer, Salt tears and retinoids, 2021, work on paper
Louise Palmer, Fragment to other bodies, 2021, plaster