Article
ArtBeat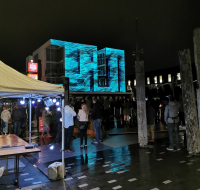 Let There Be Light
Over the summer months, nightfall will see the eye-catching architectural SALT Square mural (created by Christchurch artists Paul Walters and Dcypher and curated by Oi YOU!) transformed, activated by a projected animation.
Launched at the Highlight street art party in early October, the animation is reportedly the first of its scale in Christchurch, bringing the optical illusion of the two-dimensional mural to life through mapped movement and an accompanying soundtrack. The looping video, created by Oi YOU!'s George Shaw, presents a range of images, from cybernetic circuitry, to a blue whale crashing through arctic ice, utilising the architecture and structural framework of the large letters painted on the wall.
The disparate images reflect the lack of narrative imposed by the mural, embracing the free association afforded by the lettering focus. Impressively, Shaw created the mapped animation with no previous experience, teaching himself the process at the encouragement of Australian filmmaker Selina Miles (who worked with Oi YOU! for the blockbuster Rise and Spectrum shows). In typical Shaw fashion, he rolled up his sleeves and created the animation, in many ways reinforcing urban art's DIY spirit.
While the animation is a unique fusion of mural art and technology in Christchurch's urban landscape, it is not new to urban art. From the projects of the Graffiti Research Laboratory, who have investigated the use of light and technology to commandeer walls for many years, to collaborations between artists and videographers, such as Miles' work with Australian graffiti artist Sofles, including a project for Spectrum in 2015. Such productions have become increasingly popular as urban art, and contemporary muralism, have become features of walls around the world, adding another dimension to the decoration and transformation of cities. Through this conflation of art and technology, figures can come to life, layers can build evocative narratives, and colours can be completely altered.
But the potential of these approaches is not limited to large-scale sanctioned occasions. As the city has slowly been transformed and more and more shiny façades dominate the skyline, urban art's traditional performance as a response to the prevailing nature of urban space can be tactically reassessed. With technology increasingly accessible and affordable, the potential to apply similar approaches to these surfaces is well within reach, a small projector and battery pack placed in the right location provide a fascinating prospect for urban art's disruptive potential... Any takers?
IMAGE
Paul Walters and Dcypher, SALT Square mural, Highlight street art party launch, 5 October