Blog
ArtBeat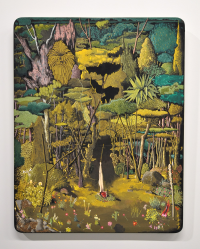 Henry Turner illuminates and confounds expectations in an interview with Warren Feeney in a discussion about his new work.
WF: What does A.P.G.A mean?
HT: I found it as the title of a French café song from 1900, Chanson de l'A.P.G.A, but the only A.P.G.A I've found seems to be a plumber's union in Cleveland, which I don't think is the reference, so it remains unknown - much to my pleasure.
WF: What and where are the worlds in your current work?
HT: Worlds are important. Personally, I have several under construction at any one time. Sometimes the work becomes enmeshed and representative of its workings, but I can't (and don't want to) make my work conditional on anyone's knowing of this aspect. It might have no meaning or anything to anyone. I like the idea that somebody could look at it and imagine that there might be something there, but I believe indifference is an underrated response. The work is an ideological blank space, or a vacuum, in which anyone can project anything they want to, imagine whatever they like. My current work doesn't have a start or end - it's is a sphinx without a riddle, but not in the Warholian sense.
WF: How do these new works relate and connect to previous exhibitions?
HT: Compared to previous work it doesn't really relate to it at all. In the last few years I have set out to transform my practice from the ground up. Also, a lot of the things in this show have been planned for many years but have only now become possible. But specific times, places and experiences were central to my previous show at City Art in 2020, Fever!, but this has not carried on at all. I'm much freer now – I can do things that I couldn't before, and this is crucial to me. I've forced my work and myself to metaphorically expand, and now after a year and a half, the work has stretched to a greater scope and, cicada-like, has left a spent skin behind. I like cicadas too.
WF: The attention to colour in these new works, is that important?
HT: It is not of supreme importance but I am very excited by colour, and I can use it if I want to (except blue). It doesn't have any symbolism or iconography at all at the moment. If an audience, or one person or several, find it arresting that is interesting to me but this is not something I control. At this time at least, I don't want to dictate terms.
DETAILS
Henry Turner, A.P.G.A
City Art Depot, 96 Disraeli Street, Sydenham
Henry Turner,

Echoes, 2022, gouache on gesso panel