Blog
ArtBeat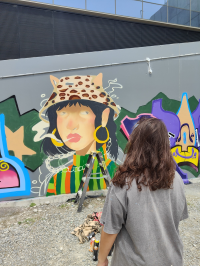 The time between submission and publication of writing can be tricky, so by the time you read this the Flare Street Art Festival will either be mid-flight, with artists working their magic on a selection of walls, or the bow will be tied, and we will have a collection of freshly completed blockbuster murals to enjoy.
As Ōtautahi's newest street art mural festival, Flare fills the sizeable, paint-splattered shoes of events such as From the Ground Up (2013), Rise (2013), Spectrum (2014-2016) and Street Prints Ōtautahi (2017), providing a hit of colour to central city walls. With the latter now staged over four years ago, Flare will provide a condensed blast of artistic activity in contrast to the increasingly singular projects that have become commonplace in recent years. While these preceding events were spread throughout the CBD (and even reaching as far as New Brighton and Lyttelton in the case of Street Prints), Flare will be staged entirely within the blossoming SALT District, a fitting location as home to some of the city's most striking mural works and an established hospitality scene.
Flare has been developed by ARCC, a collection of prominent business leaders and placemakers looking to reinvigorate the central city. Conscious Club co-founder Selina Faimalo serves as Flare's project manager, and she has had to navigate the unpredictable landscape of the pandemic and its wide-reaching effects on live events. With a changing roster and reimagined programme it has been a baptism of fire for Faimalo, who is looking forward to finally seeing paint hit the walls, admitting; "the ultimate goal was to get the walls painted and revitalise the city with street art. It has proved challenging, but even with these challenges, we are so grateful and excited that Flare will go ahead."
The ten-day festival will feature a mixture of local talent, including DTR crew stalwarts Ikarus and Wongi 'Freak' Wilson and Kophie 'Meep' S'ua-Hulsbosch, and visiting artists from wider Aotearoa, with Elliot Francis Stewart, Kell Sunshine, Koryu and Swiftmantis converging on the city. This diverse roster will provide a range of fascinating productions; from Ikarus, a graffiti traditionalist, to Auckland's Stewart, known for his intricate illustrative style, while Sunshine, from Gisborne is known for her bright, curvaceous typography and Swiftmantis' massive, detailed feline paintings, which have gained international acclaim.
In addition to the seven large-scale murals around the SALT District, Flare's wider programme will feature additional live painting events with local artists, guided tours hosted by Watch This Space, a pop-up gallery space (located at 181 High Street), a light projection installation by Fiksate Gallery and a live (and live-streamed) artist panel discussion.
Initially the festival was to culminate with a day-long market-style event with live performances but the restrictions of the Red Traffic Light setting made the concept impossible, necessitating a pivot to a revised plan. Yet, the advantage of a mural festival is that it can still exist within such limitations, centre stage dominated by the act of wall painting, which can be carried out a safe distance from spectators while still providing an impressive legacy. Faimalo was saddened that the market day, which was intended as a celebration of street culture, could not go ahead, but explains that ultimately "Flare will provide a much longer legacy that spans street art and graffiti art, both in the murals and in our documentation of the event."

IMAGES
1. The Flare Street Art Festival will activate the SALT District in early March.
DETAILS
Flare : 2nd to 12th of March.
For more details; artists, events/ locations see: https://flare.nz/ and social media channels: @flarestreetartfestival.