Blog
ArtBeat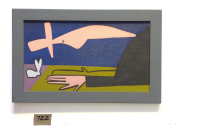 In April, Chambers Gallery in Sydenham opens an exhibition of paintings by Eion Stevens (1952 – 2021). It is the first in a long-term commitment to the exhibition and sale of paintings from his estate that will contribute to supporting Women's Refuge. (The artist gave serious consideration to questions around his work, contacting several of his friends and asking them to make a decision as to an appropriate benefactor and resolving who that would be).
His work is now held in storage at Chambers Gallery with a commitment to an exhibition every two years. Stevens leaves a legacy of works, rich in narratives and as accessible in their stories as they are extraordinary.
Stevens sourced the subjects of his paintings from everywhere; art house and mainstream cinema, popular culture, high art and the mundane realities of life, appropriating at will, the succinct nature of his work is deceptive in its agenda, with any of his storylines and their compositions, hosting contradictory references as though they had been life-long companions. These disparate pictorial elements come together as new stories, Stevens insisting that every work, regardless of how pared-back and abstract it may appear, always possessed more, yet to be revealed.
Stevens' modus operandi made the specific general, his work positioning its subjects in a way beyond and within a specific moment in time and place, and as such, in their detail encouraging our curiosity. Often satirical in his pictorial pastiches, he asserted that that his is an arts practice that is medieval, indeed, 600 years old.
Describing Stevens' paintings, artist Marian Maguire observed: 'People and objects become props in a theatrical space. While his work is subject-oriented it is pictorially driven ... [the artist] has an abiding interest in the devices of visual play.' Just as he makes manifest the fallibility of images, Stevens' art reveals how unreliable words can be.
Graduating with honours from the Otago School of Art in 1973 and studying at Exeter College of Art in England, Stevens sustained an absolute commitment to painting throughout his life. Following his graduation he exhibited regularly throughout Aotearoa, his painting the subject of many survey exhibitions in galleries that included the Dunedin Public Art Gallery, the Centre of Contemporary Art CoCA, and the James Wallace Trust Gallery, Auckland.
DETAILS
In Praise of Eion Stevens 1952 – 2021
Chambers Gallery
80 Durham Street, Sydenham
20 April – 7 May
Tuesday – Thursday 11am – 5.30pm, Friday to 5pm, Saturday to 2pm
IMAGES
Eion Stevens,Song( for Derain), 2014 Oil on textured board
Eion Stevens, Catch Dec, 1994, oil on prepared board