Reviews
ArtBeat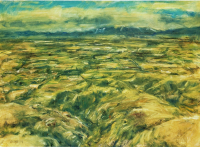 Artist Catherine Brough on Painting as an Extreme Sport
Writer
Warren Feeney
Catherine Brough has been painting 'en plein air' for more than six decades and her autobiography , Landscape Experienced 1947 – 2013, traces a history of her arts practice. Predominantly working in oil on paper and canvas from her beginnings in Northland in 1968 and then Canterbury and the West Coast of Te Waipounamu the South Island, Landscape Experienced reveals the depth of her sixty-six years through an objective and confessional series of short essays.
In addition to an essay heading describing 'Painting as an Extreme Sport', she announces: 'Yes, I think I'm a Painter', establishing the tenacity of her convictions and reservations about the dilemma of assuming such a role. In doing so, she establishes a presence throughout Landscape Experienced, as an engaging writer; humorous, witty, informed and insightful in her reflections upon, and appraisal of, her strengths and limitations.
This is the ideal art publication for anyone seeking the reality of the experience of what it might be like being a professional artist and answering that question: Why am I doing this? Landscape Experienced delivers its answers through numerous questions from Brough and quotes from artists she respects and admires. Tellingly she confesses: 'I was to find as I engaged in art... that it was not for the faint- hearted.'
Brough also brings life and reality to the various artists and art groups she has worked and shared time and conversations with, and a fondness for the galleries that have represented her work, as well as buyers, friends, art school tutors (Don Peebles, Quentin Macfarlane and W. A. Sutton are singled out) and those that she has shared many 'art conversations' with.
Certainly, Landscape Experienced is a particular art history about a network and community of artists. It details a critical aspect of the making of art that is infrequently its subject in print. For Brough, the significance of personal and group associations are there from the beginning at Te Kopuru in Northland. A 'plein air' painter, she reflects on the impact that this had in the mid-1960s on other local Northland painters, later discovering that she had been credited with the formation of the Dargaville Art Group in 1972. She reflects upon her influence asking: 'Was art contagious?'
And then there are Brough's paintings, the land as subject in Northland, the Catlins, Chatham Islands, Canterbury (the Craigieburn Range in particular) and the West Coast, almost 70 years of the artist seeking for that essential experience of her subjects, the shifting light, its geography, geology, scale, vegetation and atmosphere. It comes as no surprise that she states: 'A sense of place is not a static condition'. Neither is it coincidence that her work has been featured in group exhibitions with artists that include M. T. Woollaston, Colin McCahon, Euan Macleod and John Parker.
Pegasus Bay, the Port Hills and West Coast possess a particular presence in her practice, the subjects of 'tight rope stuff' for her painting. The landscape that Brough's paintings occupy is one that persistently analysed and dissected, responding to and seeking out its essence and the limitless potency of her materials.
DETAILS
Catherine Brough, Landscape Experienced 1947 – 2013
Designed by Wayne Lorimer
Published by Donald Brough 2021
Printed by Benefitz
Contact: dgbrough4@gmail.com

IMAGE
Catherine Brough, The Plains, 2005 oil on canvas, 800 x 1000mm