Blog
ArtBeat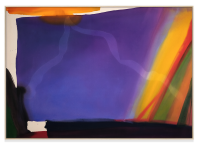 In the late 1970s, shortly before a pivotal year-long sojourn to Europe and North America, renowned New Zealand painter Gretchen Albrecht produced a series of large colour-field abstracts, the acrylic paint stained into the canvas – a territory she had begun exploring in the early 1970s.
Very few of these were shown at the time and the rest were placed in storage and forgotten about until rediscovered by the artist in 2021 during Covid lockdown. They are breathtakingly beautiful paintings that telegraph their art-historical importance from the walls.
These extraordinary works cast a fascinating light on Albrecht's development. Although there is a clear influence coming from US abstraction, particularly Mark Rothko, Morris Louis and Helen Frankenthaler, and fellow New Zealander Pat Hanly, in their details we can see the emergent motifs that would eventually come to characterise Albrecht's distinctive work.
Although perhaps not the most achingly beautiful of the works on display, the painting tumult (1978) already contains within it the beginnings of the central division and gestural hemispherical sweeps of later work. In seasonal (1976) we stare into a fiery sunset where a meandering blue-green mark hints at a horizon more McCahon than Rothko.
The distinctive thing about the paintings is that they are not simply left as stained colour-fields. These have been worked over with expressive brush marks, or partially washed away to reveal the faint spectre of the colour that was there, or splashed with paint à la Pollock as in brume tangle (1977).
The title of the show, nine illuminations 1976-1978 carries within it a hint of Arthur Rimbaud and it is a fitting title, and indeed Benjamin Britten's setting of that work was often on the studio stereo at the time.
Like the verse libre poems of Rimbaud's Les Illuminations (1886) each painting is a self-contained flash of emotion, ecstasy and metamorphosis. Rimbaud's lover Paul Verlaine wrote in his preface to the Illuminations that the English word was based on the English word with the idea of coloured plates in mind. No doubt Rimbaud's theme of travel chimed with Albrecht's own anticipated voyage.
It's astonishing that such a brilliant, bold and cohesive body of work was produced in Aotearoa and go largely unnoticed, not least that it should be produced by a woman artist in that patriarchal milieu, backwards, as it were, and in heels.

DETAILS
Gretchen Albrecht, nine illuminations 1976 – 1978
NMG, 141 Cambridge Terrace
5 August – 10 September
Gretchen Albrecht, illumination (lee-side 2), 1978 acrylic on canvas